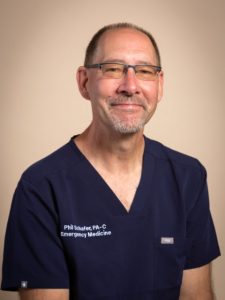 Degrees
Certificate of PA Studies, Kettering College of Medical Arts, Dayton, OH
Paramedic Program, St. Mary's Medical Center, Saginaw MI 
Board Certifications
Certified Physician Assistant, National Commission on Certification of PAs
Licensed Paramedic
Fellow, Society of Emergency Medicine Physician Assistants
Distinguished Fellow, American Academy of Physician Assistants
Advanced Trauma and Advanced Cardiac Life Support
Advanced Pediatric Life Support
Professional
Phil Schafer joined the Grace Cottage Emergency Department staff in 2021.
He graduated magna cum laude from Kettering College of Medical Arts, with specialty concentrations in Emergency Medicine and Thoracic Surgery, and he was the recipient of the George Adler Award for an Emergency Medicine Student. Schafer has been a practicing Physician Assistant since 1995, working in Emergency Medicine at Otsego Memorial Hospital in Gaylord, MI, at the Emergency Physicians Medical Group, and at St. Mary's Medical Center in Saginaw, MI. Prior to this, he was a paramedic for NorthFlight EMS, providing critical care transports, and was a paramedic for Emergency Medical Services in Saginaw, MI. Schafer is the past president of the Michigan Academy of Physicians Assistants and was their legislative affairs chairman for 9 years. He is also an Emergency Medicine preceptor for PA students, Paramedics, and Nurses.
Personal
Schafer is married to Carrie and they have two daughters. They like to camp, kayak, and go to music festivals.