Comfort Care at the End of Life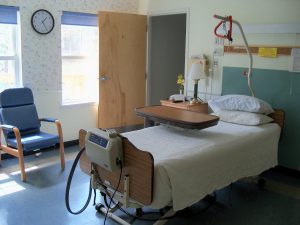 At Grace Cottage Hospital, we are deeply proud of our Comfort Care Program. It provides physical and emotional comfort to patients and their families as loved ones face the end of life, ensuring that this complicated and uncertain time is met with dignity and respect.
Our Comfort Care program meets each patient's medical needs, including pain and symptom management.
But we go much further than providing physical comfort and soothing pain. Our highly trained medical team also focuses on easing fears and supporting the emotional well-being of each patient. Families are also provided with the information and support they need as they grieve the passing of someone they love.
We are committed to end-of-life comfort care that focuses on both patients and families, recognizing that no two families are alike as they face this final step in care. Our team will answer all questions and work closely with patients and families to provide the information to ease this process.
Who Can Benefit from Comfort Care?
Anyone who is facing a life-threatening illness and whose death is imminent may choose Comfort Care.
What Services are Provided?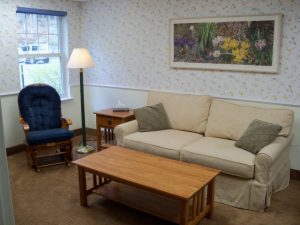 Pain management
Symptom management
Tender personal care
Spiritual support as desired
Support from a highly-trained interdisciplinary medical team
Care coordination with local hospice agencies
How are Families Supported?
The Comfort Care Suite is a private patient room that includes an adjoining Family Room and access to an all-season sun porch. The Family Room includes a pull-out sofa bed, a small refrigerator, a microwave, a separate full bathroom, a television and sound system, as well as additional space for families to gather.
Grace Cottage provides ongoing grief and supportive counseling.
How Can I Learn More or Access Comfort Care?
Ask your local hospice agency, your primary care physician, or contact us directly:
Jessica Emerson, Director of Social Services at 802-365-3614, or JEmerson@gracecottage.org.
Testimonials
"Our family would like to thank you ALL from the bottom of our hearts for everything you did for our Mom, for the wonderful care you provided to her, for us, and for every kind word spoken. We were so touched that you made this time easier and loving." ~ Reginald Abare & family, Westminster, VT
"We were all very grateful for the wonderful, tender, loving care that Jim received, and for your support of all of us. We were all very impressed with the special room for hospice care and another room for family. We are so grateful that Grace Cottage has a special section that allows a patient to have such outstanding care in their final days." ~ Stuart & Ellen Archambault, Londonderry, VT