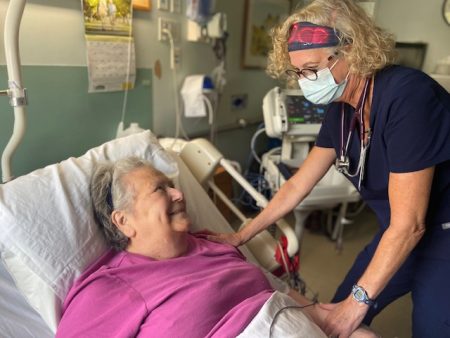 Grace Cottage Hospital Services
Grace Cottage Hospital, located in Townshend, VT, has a 24/7/365 Emergency Department, as well as a 19-bed inpatient care unit. State-of-the-art diagnostic services provided by our certified and trained medical teams include digital x-rays, CT scans, bone density scans, and ultrasounds, as well as a full-service lab open 7 days a week.
Grace Cottage Hospital is well known for its excellence and compassion, with care that focuses on the individual, to maximize healing in the Hospital setting to prepare for a safe return home.
Our federal designation as a Critical Access Hospital underscores Grace Cottage's importance in providing health care to an otherwise medically-underserved community. Grace Cottage Hospital was recognized as a Top 20 Critical Access Hospital by the National Rural Health Association in 2017 and 2018. Patients come here from throughout rural southern Vermont and beyond. It is the closest medical facility for many area residents, providing vital services for the community.
For admission questions, please call 802-365-7357.
In-Patient Collaborative Care
Our acute and rehabilitation patients are cared for by a Hospitalist who leads a team of Skilled Nurses providing acute and rehabilitative care; a specialized Wound Ostomy Nurse for complex wound care; Physical and Occupational Therapists; Social Services staff; Registered Dieticians and a Dietary Department committed to using fresh and locally sourced ingredients.
All of these create an ideal place for healing.
Outpatient Infusion Care
There are times when people in the community need services that do not require hospitalization, yet do require additional specialized medical treatment. Grace Cottage Hospital can help manage these conditions by providing outpatient treatments, often in the form of an IV (intravenous) Infusion. These can include:
Chronic and Iron Deficiency Anemia (Venofer)
Osteoporosis (Reclast, Prolia)
Infections (IV Antibiotics)
Immunoglobulin Deficiency (IVIG)
Covid Positive (Monoclonal Antibodies Bamlanivimab plus Etesevimab)
Dehydration (IV Hydration)
Polycythemia Vera/Hemochromatosis (Therapeutic phlebotomy)
Dressing Changes and wound assessment
End-of-Life Care
Our end-of-life care includes pain and symptom management, but goes above and beyond to meet the emotional needs of patients and their families. Our Comfort Care suite includes a private room with an adjoining Family Room, access to a beautiful all-season sun porch, and more.
Patient Testimonials
"I've never before received the level of care that I have here at Grace Cottage. Everyone is so friendly, so concerned about my physical and emotional well-being. … Everyone here goes the extra mile – it's the most supportive environment I've ever been in. … When I posted on my Facebook page, 'Where should I go for Physical Therapy and Rehab Care?' within 20 minutes, I had 110 responses, and they all said: 'Grace Cottage!' Now I know why!" ~ Lynn Alden, of Brattleboro, VT
"I needed surgery after I fell and broke my shoulder, after which I came to Grace Cottage for outpatient physical therapy. My surgeon in Connecticut said that I progressed much faster than he'd expected, due to my great treatment here."  ~ Judy Rowley, of Grafton VT and Southbury, CT