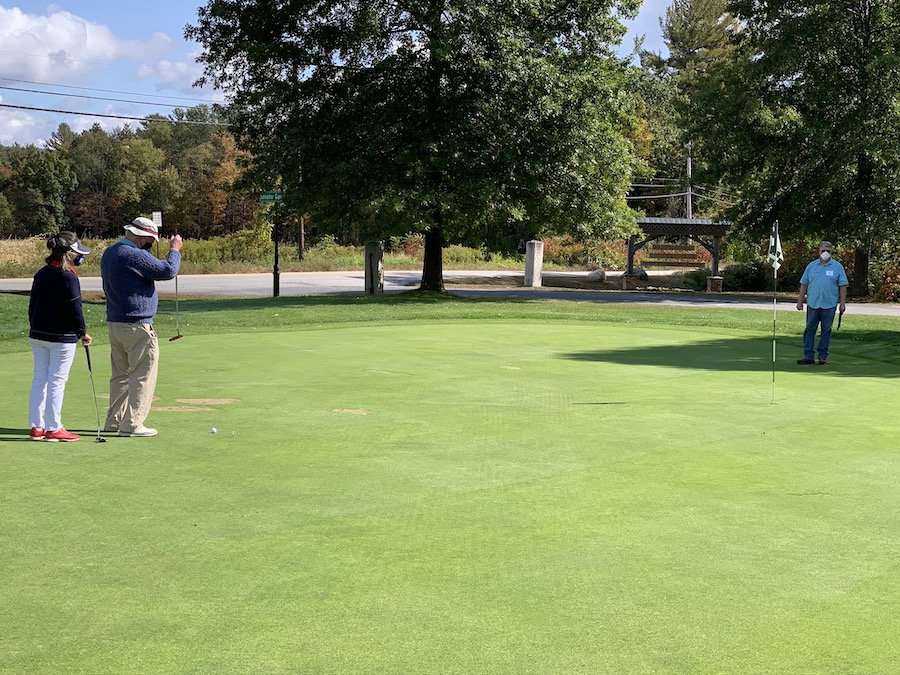 Saturday, June 12, 2021 
Grace Cottage's 12th Annual Tee It Up for Health golf benefit will be held on Saturday, June 12, at the Brattleboro Country Club. Out of an abundance of caution, this socially distanced event will be organized like the 2020 event, with staggered start times from 8 a.m. until 2 p.m.
We can add one or two more teams to our tournament this year, so call 802-365-9109 if you're interested in joining us and 120 other golfers, in support of Grace Cottage Hospital's Patient Care Fund.
Enjoy a spectacular day of golf at the Brattleboro Country Club. Fee includes lunch, greens fees, golf cart, logo wear, some contests, and a dinner coupon.
Thank you to our sponsors, to date, including:
EVENT SPONSOR: The Richards Group; Brattleboro Country Club
HOLE-IN-ONE SPONSOR:  Brattleboro Subaru
PLATINUM SPONSORS: Cerner; Coverys; Elizabeth Walker & Eileen Ranslow
GOLD SPONSOR: People's United Bank
SILVER SPONSORS: Andy & Linda Barber; Brattleboro Memorial Hospital; Community Bank
HOLE SPONSORS: Against The Grain Gourmet Foods; Allard Lumber; Chroma Technology; Farnum Insulators; Howard Printing; Lawrence & Lober Electric; Northeast Delta Dental; Primmer Piper Eggleston & Cramer; Tracy J. Sloan, CPA; Southern Vermont Podiatry; West River Family Dental; The Windham Foundation; WW Building Supply & Home Center
BRONZE SPONSORS: Baker Newman Noyes; Blue Cross/Blue Shield VT; Bradford Machine Company; Lawton Floor Design; Leader Beverage
FLAG SPONSORS: Five Maples, W&B Management
Please call 802-365-9109 or e-mail info@gracecottage.org if you'd like to join the sponsors of this tournament; your sponsorship is a vote of support for this small, independent, rural hospital.
__________________________________________________________
Grace Cottage Hospital's 2020 Tee It Up For Health: Great Success
With many Covid safety measures in place, 29 teams participated in Grace Cottage Family Health & Hospital's 11th Annual Tee It Up For Health golf tournament on Saturday, Oct. 3, at the Brattleboro Country Club. The weather was beautiful, the event went smoothly, and over $39,000 was raised, thanks to golfers and generous sponsors. Net proceeds from the event benefited Grace Cottage Family Health & Hospital's Patient Care Fund.
2020 Tournament results were as follows:
First Place Team (Score of 59): (People's United Bank Team) John Conlon, JJ Conlon, Pat Mulcahy
Second Place Team (Score of 60): David Allbee, Marty Hill, Les Lynch, Bill Stephens
Leaderboard Air Cannon: Marty Hill (4'5")
Putting Contest: 9 golfers sank their putts (Kathy Ballantine, Tom Bedell, Coop Bills, Jim Bogdany, Scott Cleary, Dennis Degnon, Jerry Farmer, Gene Horton, and Bill Hoyt). Because a putt-off was not possible, due to the staggered start times throughout the day, names were drawn from a hat. First place winner was Kathy Ballantine, second was Coop Bills, and third was Dennis Degnon.
Closest to the Pin Hole #4 Men: Peter Schofield 11'8"
Closest to the Pin Hole #4 Women: Ally Barber 23'8"
Closest to the Pin #8 Men:  Stephen Kapral 2' 10"
Closest to the Pin #8 Women:  no winner
Hole-in-One #8 (sponsored by Brattleboro Subaru): no winner
Closest to the Pin #13 Men: Pat Mulcahy 6'11"
Closest to the Pin #13 Women: Gail Martin 31'8"
Closest to the Pin #16 Men: Chris Pearson 4'9"
Closest to the Pin #16 Women: Ally Barber 36'
Long Drive #9 Men: Tray Trudell
Long Drive #9 Women: Terry Boyce
Long Drive #10 Men: Les Lynch
Long Drive #10 Women: Terry Boyce
Closest to the Line #15 Men: Rob Lawrence
Closest to the Line #15 Women: Alicia Field