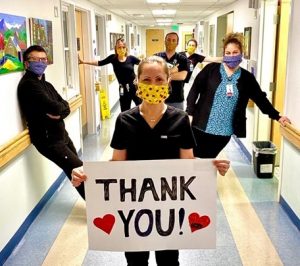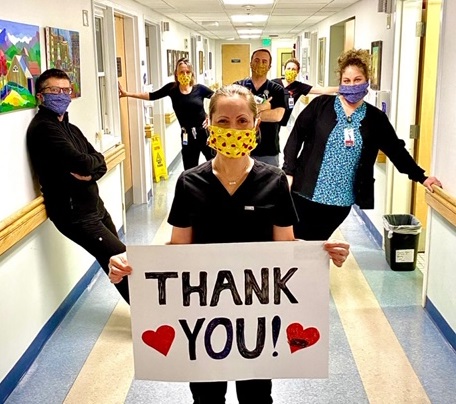 We are the small hospital with the big heart! Our size is a big asset because it allows us to provide high quality health care with a personal touch. At Grace Cottage, your contribution has a tangible impact on the care of our patients. Your generosity really makes a difference to all the patients that we serve. While other small, rural hospitals have been forced to close due to financial shortfalls, prudent management and your gifts have enabled Grace Cottage to thrive!
At the moment, Grace Cottage is feeling great financial impact from COVID-19. Some services have been suspended, so there is loss of income. At the same time, additional costs are required in order for us to be ready to respond to this disease. Therefore, as of March 23, 2020, and until further notice, all donations given to Grace Cottage are being put toward our COVID-19 Fund, unless you specify otherwise.
You can still specify that your gift be in memory of or in honor of someone. You can also direct your gift toward  medical equipment, technology, building improvements, or to the Patient Care Fund, which helps Grace Cottage provide free care for those lacking adequate resources.  Gifts can also be directed to specific Wish List items.
WAYS TO DONATE:
By Credit Card
To make a gift by phone using Discover, Visa, or MasterCard, please call us at (802) 365-9109 between the hours of 8 a.m. to 5 p.m.
Online giving is a simple, secure way to make a credit card gift. We can accept Discover, Visa or MasterCard.
By Check
Checks can be made out to "Grace Cottage Hospital."  Please send your gift to:
Grace Cottage Foundation, P.O. Box 1, Townshend, VT 05353
Or better yet, come say hello and drop off your check at the Grace Cottage Foundation office in the Heins Building at 133 Grafton Road.
Memorial and Tribute Gifts
Memorial and Tribute Gifts are a wonderful way to celebrate an occasion, honor a friend, or remember a loved one.
Matching Gifts
When making a gift to Grace Cottage, please remember to check with your employer to see if they match employee or retiree contributions. Some employers will also financially match volunteer hours, so be sure to ask your employer.
Other Gifts
Grace Cottage also accepts gifts of stocks or bonds.  Donors can also choose named gifts, such as a room, a building, an endowed program, a tree, or rose bush.  To discuss your gift to Grace Cottage, please contact Andrea Seaton at (802) 365-9109 or via email at aseaton@gracecottage.org.
Amazon Smile
Grace Cottage Hospital participates in the Amazon Smile program. AmazonSmile is a website operated by Amazon that lets customers enjoy the same shopping as on Amazon, but when customers shop on AmazonSmile, the AmazonSmile Foundation will donate 0.5% of the price of eligible purchases to the charitable organizations selected by customers. Just select "Grace Cottage Hospital" as your charity, and your shopping helps support Grace Cottage!
Grace Cottage Hospital is a non-profit, 501(c)(3) charitable institution. Your gift is tax-deductible to the extent the law allows.