Our Food Services Department provides patients, visitors, staff and guests with delicious and nutritious meals. Grace Cottage is proud to support our local farmers, and sources locally as much as possible. Our local partners include Dutton Farms, Firebelly Farms, Harlow Farm, Old Athens Farm, Walker Farm, and Westminster Organics, to name a few. Our beef and chicken are antibiotic and hormone free, and our milk is rBGH-free. Grace Cottage is committed to supporting a healthy food system, and expanding our use of local, nutritious, sustainable foods.Grace Cottage is a member of the Windham Farm and Food Network, and has signed the Healthy Food in Healthcare pledge.Lunch includes a full salad/sandwich bar, selections from a hot buffet, homemade soup, drink, and fruit/dessert. The hot buffet includes two entrée choices per day, one vegetarian. Two choices of deli meats and two choices of cheese are available each day. The sandwich bar also includes one lunch salad each day, such as tuna salad, seafood salad or chicken salad.
Hot Meals:
Breakfast sandwiches (quantities are limited): 7:30 a.m. to 9:00 a.m.
Lunch: Noon to 1:30 p.m.
Cost:
Breakfast Sandwiches: $2.00
Lunch: $8.00
Dessert/Soup Only: $2.00
Sample Lunch Menu:
Homemade Soup of the day: Corn chowder
Entrees: Chick pea, spinach and squash gnocchi; herbed pork roast with pearl onion gravy
Sandwich options:

Meats: Ham, turkey
Cheeses: Cheddar, Swiss
Breads: Variety of bread choices, which can include white, wheat, rye, pumpernickel, wraps and flat bread
Extras: lettuce, tomato, cucumbers, pickles, olives, mayo, mustard, and more!
Salads: pasta salad, potato salad, rice salad
Fruits and desserts: oranges, bananas, apples, seasonal fruit, and dessert of the day
If you have any questions about the cafeteria or Food Services, please contact Grace Cottage's Food Services Director Denise Choleva at 365-3607.
---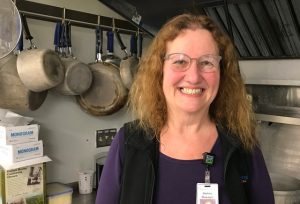 Denise Choleva
Director, Food Services Department