Last updated January 12, 2021
Should I get vaccinated for COVID-19? We strongly recommend you get vaccinated, to help protect you from getting sick from COVID-19, and possibly to save your life. Mass vaccination appears to be the only way to defeat the pandemic and get life back to normal.
How effective are COVID-19 vaccines? Pfizer's and Moderna's vaccines are both approximately 95% effective in preventing COVID-19 symptoms. This rate applies across adult age groups, racial and ethnic groups, and both sexes. Vaccine trials in children have not been completed, so vaccination for children is not yet approved. It takes about 2 weeks for the vaccine to start building immunity. Two shots are needed for maximum protection.
How was the COVID-19 vaccine developed so quickly, when previous vaccines took many years to develop? The relatively quick development does not mean safety measures were skipped. There are several reasons why the COVID-19 vaccines were developed faster than other vaccines:
The vaccines currently available were created using the new mRNA technology, which allows faster and safe vaccine development.
The testing processes didn't skip any steps, but vaccine developers conducted some stages simultaneously to gather as much data as quickly as possible.
Governments funded vaccine developers in advance, so they had the resources they needed.
Companies began manufacturing vaccines ahead of their FDA authorization so they would be ready to ship immediately upon approval.
Why do experts believe the released vaccines are safe? The mRNA used to induce an immune response is quickly cleared from the body, as are the other components of the vaccine. In the hundreds of thousands of people vaccinated so far, minor side effects (injection-site soreness, mild headache, fatigue) are common, but only last a day or two in most people. The only serious side effects so far are rare allergic reactions that were effectively treated. Anyone who has had a severe allergic reaction to polyethylene glycol (PEG), a component of both vaccines, should not get vaccinated.
Can the vaccine give you COVID? No. It is impossible to get COVID from the vaccine because the virus is not in the vaccine. Some people who received the vaccine experienced fatigue, soreness, inflammation, or headache, symptoms similar to those experienced by those with COVID, but these were a result of the vaccine teaching their bodies to respond to the virus, if infected.
Is it better to get natural immunity to COVID-19 rather than immunity from a vaccine? No. While COVID-19 infection does give some immunity, it is a dangerous option, causing serious illness in many, with debilitating symptoms that can last for months. And it kills at least 1% of those who get it. Also, experts think immunity from the disease itself may not be long-lasting. Vaccination is the best protection; it is very safe and provides the best immunity.
I hear that the chances of surviving COVID are 99% for a young, healthy person. Why should I get the vaccine? That means there's a 1% chance of dying. In the U.S., with 328 million people, that's 3,280,000 deaths – unacceptable. The death rate is far higher than 1% for the elderly and those with medical problems. Those who survive COVID often suffer weeks of symptoms with prolonged recovery. The risks from the vaccine are very small, far safer than getting COVID.
Can my child get vaccinated for COVID-19? So far, the vaccine is allowed only for adults and older teens. Testing has begun for younger adolescents.
Is it safe to get a COVID-19 vaccine if I have an underlying medical condition? Yes. COVID-19 vaccination is especially important for people with underlying health problems like immune system issues, heart disease, lung disease, diabetes, and obesity, as these increase the risk of getting very sick from COVID-19.
Can I get the vaccine if I am pregnant, nursing, or may become pregnant? Based on current knowledge, pregnancy increases the risk for severe illness from COVID-19. Also, there may be increased risk of adverse pregnancy outcomes, such as preterm birth. Therefore, pregnant women will be given early access to the vaccines. While the vaccines currently available have not been tested in pregnant or breastfeeding women, the American College of Obstetrician and Gynecologists recommends COVID-19 vaccines for these individuals.
Once I get the vaccine, can I go back to normal life? Not immediately. Stopping a pandemic requires using all tools available. We must continue all preventative measures for the near future. Vaccines take time to start working and do not provide perfect protection. It will be some time before all community members are vaccinated, so we should do everything possible to stop the virus from spreading. Remember – face masks, six-foot spaces, and avoid crowds.
How will the vaccine be distributed? The COVID-19 vaccine will be distributed in phases as determined by the VT Department of Health and the Governor. The first wave has been earmarked for healthcare workers and those living and working in long-term care facilities, such as nursing homes and senior living communities.
As more doses become available, they are expected to go to the oldest adults, starting with those 75 and older. Adults with significant underlying medical conditions will be next. Next, essential workers (those in education, food and agriculture, public safety, and others) will be vaccinated. Finally, efforts will move to the rest of society. See the accompanying chart.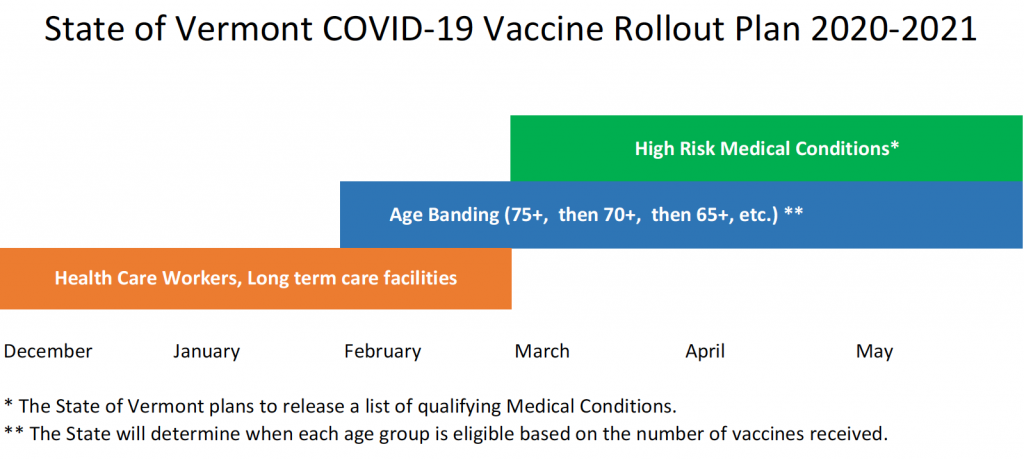 How will I learn when it's my turn? We have begun vaccinating hundreds of staff and community health care workers. If you are a local health care worker and haven't been vaccinated, please call us. For the general public, the vaccine is not yet available. We will use our website, Facebook, e-newsletter, and other means to notify people how and when to get their vaccine. We are not currently making appointments or a waiting list.
I live much of the year in Vermont but my legal residence is out of state. Will I get my vaccine here or in my home state? People who live in one place and receive care in another should take their first opportunity to receive the vaccine. Ideally, you should receive the second shot with the same provider as the first one.
We are continually adding COVID updates to our website. Visit our Covid-19 Information page for the latest updates.