Saturday, May 12, 2018
Townshend Common
Our 9th Annual Spring Into Health 5K will be held on Mother's Day Weekend, as always. This popular annual event draws over a hundred participants each year. While professionally-timed for serious runners, all are welcome to walk, run, roll or stroll! Complimentary snacks, raffle prizes, and good spirit add to this wonderful family event. (Not available May 12th? See the option to participate 'virtually in the yellow box below!)
While this event benefits our non-profit community hospital, we have purposely kept registration fees low so that the expense doesn't keep anyone from coming.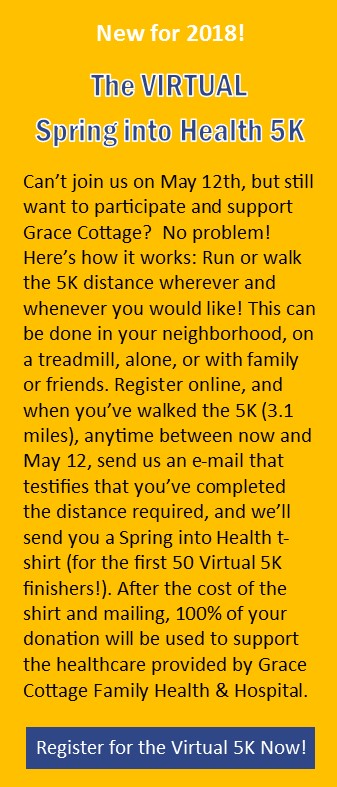 5K Registration Fees:
February 1 thru May 10th: Adults (18+): $12, Kids: $8.
Event Day: Adults: $20, Kids: $10.
Location: Start and finish at the Townshend Common, Townshend, VT. (Park across the street at Leland & Gray High School.)
Date/Time: Saturday, May 12, 2018. Rain or shine! Check-in/register 7:45 – 8:15. Race starts at 8:30 sharp. Event is over around 10:00.
Course: 3.1 miles on the paved and relatively flat Grafton Road (Route 35.) Up & back, traffic controlled for safety. 5K professionally timed for competitors.
Prizes: Awards will be presented to the fastest male & female runners and to the "most experienced" participant. There will be lots of raffle prizes as well.
Free t-shirts for first 100 who register! Complimentary water & snacks.
Free Fun Run for Kids (8 and under): Starts at 9:15. Medals for all!
No pre-registration required.
For more information: call (802) 365-9109.
Photos of last year's event can be viewed on the Grace Cottage facebook page.
Note: Photographs and/or video will be taken at this event by event organizers. If you do not wish for your individual image to be used in possible future promotional material, please inform the photo/videographer. Your request will be granted. (Realize, if you don't look good, we don't look good!)
—-
2017 Spring Into Health 5K RESULTS*
As recorded by 3C Race Productions LLC
Townshend, VT - May 13, 2017

Place Name                 Ag S No.  City            St Time    Pace     
===== ==================== == = ==== =============== == ======= ===== 
    1 LUCAS NEWTON         16 M   80 TOWNSHEND       VT   19:23  6:15 
    2 SEAN O'BRIEN         48 M  139 JAMAICA         VT   21:37  6:59 
    3 JARED JACKSON        18 M   79 CHESTER         VT   23:00  7:26 
    4 CHUCK ADAMS          60 M  162 GREENFIELD      MA   23:42  7:39 
    5 ELKANAH LINDER       20 F   55 TOWNSHEND       VT   24:10  7:48 
    6 JESSE CORBEIL        35 M  151 E. DOVER        VT   24:13  7:49 
    7 ERIC CERRA           21 M  136 TOWNSEND        VT   25:01  8:05 
    8 BENTON WINRICH       18 M  116 TOWNSHEND       VT   25:08  8:07 
    9 SONDRA SMITH         33 F  101 LISBON FALLS    MA   25:11  8:08 
   10 JOHN KIM             27 M   68 BRATTLEBORO     VT   25:32  8:15 
   11 GINGER BROWN         19 F   77 JAMAICA         VT   25:46  8:19 
   12 NICHOLAS SMITH       34 M    4 LISBON FALLS    ME   25:53  8:21 
   13 MOSS LINDER          55 M   53 TOWNSHEND       VT   25:54  8:22 
   14 BRITTNI PETRY        40 F  107 MANCHESTER      VT   26:00  8:24 
   15 PATRICK GAGLIARDI    12 M  163 NEWFANE         VT   26:01  8:24 
   16 ANDREW SEMEGRAM      37 M   92 BELLOWS FALLS   VT   26:09  8:26 
   17 CHRIS PETRY          43 M  106 MANCHESTER      VT   26:09  8:27 
   18 SAMANTHA RUSS        23 F  132 TOWNSHEND       VT   26:18  8:29 
   19 DOUGLAS ROGERS       61 M  126 BRATTLEBORO     VT   26:24  8:31 
   20 ADAM CULVER          16 M  145 TOWNSHEND       VT   26:30  8:33 
   21 PETER CASE           52 M   27 BRATTLEBORO     VT   26:43  8:37 
   22 ROBERT JACKINS       45 M  143 WINDHAM         VT   26:53  8:41 
   23 HEIDI SCHMITT        62 F   49 AUGUSTA         WV   26:53  8:41 
   24 MARY CHRISTENSEN     52 F  119 NORTH ADAMS     MA   26:56  8:42 
   25 WAYNE GELINAS        50 M  120 NORTH ADAMS     MA   26:57  8:42 
   26 CHRISTINE DEVAULT    47 F   73 E. DOVER        VT   26:59  8:43 
   27 BARBARA SAUER        69 F   48 BUFFALO         NY   27:08  8:45 
   28 DAVID DOMENIEN       46 M  147 S. LONDONDERRY  VT   27:26  8:51 
   29 PIERRE LANDY         55 M  114 BRATTLEBORO     VT   27:34  8:54 
   30 NICOLE PRITIKIN      44 F  105 SUNDERLAND      VT   27:39  8:56 
   31 SCOTT PARADIS        34 M    3 WINDHAM         ME   27:53  9:00 
   32 JOE NINESLING        62 M   16 TOWNSHEND       VT   27:58  9:02 
   33 JASON BEAN           44 M    1 JAMAICA         VT   28:08  9:05 
   34 RUTHIE WRIGHT        12 F  111 TOWNSHEND       VT   28:21  9:09 
   35 MARIS LINDER         15 F   57 TOWNSHEND       VT   28:35  9:14 
   36 BAY HOLMES           14 M  118 TOWNSHEND       VT   28:35  9:14 
   37 EMILY COLEMAN        15 F   25 WINHALL         VT   28:49  9:18 
   38 RAJI BALLOV          64 M  137 W.DUMMERSTON    VT   29:03  9:23 
   39 LEO SCHIFF           56 M  141 BRATTLEBORO     VT   29:12  9:26 
   40 NICK WILLIAMS        66 M   95 PUTNEY          VT   29:27  9:30 
   41 SHEILA PINKNEY       52 F   65 E. DUMMERSTON   VT   29:28  9:31 
   42 SUSAN ROGERS         62 F  140 BRATTLEBORO     VT   29:38  9:34 
   43 ABIGAIL WINRICH      20 F  117 TOWNSHEND       VT   29:48  9:37 
   44 KATHY MELLING        63 F   51 VARYSBURG       NY   30:11  9:44 
   45 ALYSON GRZYB         42 F   87 SUNDERLAND      VT   30:32  9:51 
   46 PETER BROUSSARD      13 M  104 NEWFANE         VT   30:38  9:53 
   47 KATE VENNE           26 F   94 S LONDONDERRY   VT   30:40  9:54 
   48 JOHN FRECHETTE       65 M  123 NEWFANE         VT   30:57  9:59 
   49 ANDY DUKEHART        64 M   97 TOPSFIELD       MA   31:05 10:02 
   50 RILEY BROWN          21 M   76 GUNNISON        CO   31:08 10:03 
   51 EMMA O'BRIEN         14 F   86 JAMAICA         VT   31:10 10:04 
   52 CARA LINDER          17 F   56 TOWNSHEND       VT   31:43 10:14 
   53 MAURICE GEURTS       52 M  161 GRAFTON         VT   31:44 10:15 
   54 RACHEL CARROLL       28 F  129 GUILFORD        VT   31:45 10:15 
   55 JAY URATO            39 M  130 WILLIAMSVILLE   VT   31:46 10:15 
   56 ABBY ELDRIDGE        39 F  115 BROOKLINE       VT   31:56 10:18 
   57 KRISTINA WRIGHT      39 F  110 TOWNSHEND       VT   31:57 10:19 
   58 CATHY COUTU          61 F  159 GREENFIELD      MA   32:18 10:25 
   59 DOUGLAS MCCRAE       60 M  131 GUILFORD        VT   32:40 10:33 
   60 BARBARA LETTENBERGER 61 F   98 WINDHAM         VT   32:51 10:36 
   61 JOSHUA MARTEL        13 M   12 ARLINGTON       MA   33:02 10:40 
   62 CARL MARTEL          44 M   10 ARLINGTON       MA   33:03 10:40 
   63 OLIVIA JOHNSON       25 F  109 TOWNSHEND       VT   33:07 10:41 
   64 TIM YOUNG            48 M   74 PUTNEY          VT   33:23 10:46 
   65 KATELYN PETTY        12 F   85 TOWNSHEND       VT   33:25 10:47 
   66 JUDY MCINTYRE        53 F   34 WALPOLE         NH   33:27 10:48 
   67 TRACI BARTLETT       40 F  156 E. DOVER        VT   33:40 10:52 
   68 ALEAH LAWRENCE       19 F   62 LONDONDERRY     VT   33:41 10:52 
   69 BEVERLY FOSTER       59 F   61 LONDONDERRY     VT   33:42 10:52 
   70 TREVOR HAZELTON      11 M  150 RAWSONVILLE     VT   33:57 10:58 
   71 DIANE VERGARA        53 F  113 BRATTLEBORO     VT   33:59 10:58 
   72 CODY CORBEIL         12 M  152 E. DOVER        VT   34:04 11:00 
   73 KATIE HAZELTON       36 F  149 RAWSONVILLE     VT   34:08 11:01 
   74 DAVID ISAACSEN       49 M   72 W. HALIFAX      VT   34:44 11:13 
   75 KALIJAH ISAACSEN     03 M   42 W. HALIFAX      VT   34:46 11:13 
   76 AUDREY ISOM          26 F  148 VENICE          FL   34:48 11:14 
   77 EVAN COLEMAN         15 M   24 WINHALL         VT   35:09 11:21 
   78 DEVAN LUCIER         29 F   58 TOWNSHEND       VT   35:14 11:22 
   79 ANDREW DAVIS         29 M   59 TOWNSHEND       VT   35:15 11:23 
   80 KIRSTEN MUNSON       15 F  124 NEWFANE         VT   35:24 11:26 
   81 ABBIE HAZELTON       14 F   84 RAWSONVILLE     VT   35:53 11:35 
   82 PAT LABELLE          39 F   64 DUMMERSTON      VT   36:18 11:43 
   83 LIAM COLEMAN         21 M   22 WINHALL         VT   36:20 11:44 
   84 CLARA DUTTON         67 F   81 TOWNSHEND       VT   37:12 12:00 
   85 MARY STEINER         39 F  125 NEWFANE         VT   37:22 12:04 
   86 GRACE WRIGHT         09 F  112 TOWNSHEND       VT   37:46 12:11 
   87 LISA EATON           52 F   31 KEENE           NH   38:10 12:19 
   88 LINDA SMITH          57 F   50 JAMAICA         VT   38:30 12:25 
   89 PARKER THIBAULT      09 F  160                      38:33 12:26 
   90 JONI BERTRAM         54 F  164 TOWNSHEND       VT   39:10 12:38 
   91 SARAH PERKINS        37 F  121 W WARDSBORO     VT   40:13 12:59 
   92 HELEN DUKEHART       60 F   96 TOPSFIELD       MA   40:28 13:04 
   93 JULIA MARTEL         10 F   13 ARLINGTON       MA   40:56 13:13 
   94 MARTHA EISENBERG     53 F   11 ARLINGTON       MA   40:59 13:14 
   95 BRUCE SWEETER        30 M   60 BRATTLEBORO     VT   41:14 13:18 
   96 JORDA DAIGNEAULT     55 F    9 BROOKLINE       VT   41:28 13:23 
   97 STEPHEN BROWN        52 M   47 TOWNSHEND       VT   43:14 13:57 
   98 STEPHANIE BROWN      26 F   78 TOWNSHEND       VT   43:15 13:57 
   99 DEBORAH BROWN        62 F   46 TOWNSHEND       VT   43:21 13:59 
  100 KELLY HILL           32 F   89 ROCKINGHAM      VT   43:49 14:08 
  101 SHAWN MAY            24 M  157 GREENFIELD      NH   43:52 14:09 
  102 ALEJANDRA FLOYD      29 F   63 TOWNSHEND       VT   44:17 14:18 
  103 KIMBERLY ISAACSEN    47 F   71 W. HALIFAX      VT   45:26 14:40 
  104 HOLLY DOMANSKI       38 F   28 NEWFANE         VT   45:40 14:44 
  105 TIEQUA ISAACSEN      25 F   40 W. HALIFAX      VT   49:23 15:56 
  106 ALBRY CROWLEY        28 F  138 BRATTLEBORO     VT   49:24 15:56 
  107 MAIZY SHOOER-SAMPSON 07 F   44 BRATTLEBORO     VT   49:24 15:57 
  108 ELLEN SCIALABBA      56 F  100 JAMAICA         VT   50:00 16:08 
  109 SAMUEL SCIALABBA     57 M   99 JAMAICA         VT   50:02 16:09 
  110 ADDISON CORBEIL      09 F  154 E. DOVER        VT   50:03 16:09 
  111 DEWEY BARRY          69 M    6 NEWFANE         VT   50:05 16:10 
  112 ANDREA SEATON        62 F   52 E. DOVER        VT   50:05 16:10 
  113 ERICKA FLETCHER      09 F  153                 VT   50:06 16:10 
  114 HEIDI RUSS           46 F  144 TOWNSHEND       VT   50:25 16:16 
  115 BETH CUTTS           50 F  146 TOWNSHEND       VT   50:26 16:16 
  116 CASSIE FLETCHER      11 F  155 E. DOVER        VT   50:32 16:18 
  117 LIAM DOMANSKI        08 M   29 NEWFANE         VT   52:22 16:54 
  118 SAMUEL FISHER        58 M    8 BROOKLINE       VT   52:56 17:05 
  119 JANET LUCIER         58 F  158 TOWNSHEND       VT   53:19 17:12 
  120 ABI BELL             27 F   90 TOWNSHEND       VT   53:49 17:22 
  121 TIM BELL             57 M   91 TOWNSHEND       VT   53:50 17:22 
  122 JENNIFER MATHESON    45 F  103 NEWFANE         VT   58:11 18:46 
  123 ANNA MAY SAUR        38 F  142 PUTNEY          VT 1:00:05 19:23 
  124 REBECKA MARCHESE     28 F   38 DUMMERSTON      VT 1:00:08 19:24 
  125 JENNIFER SHOOER      40 F   36 BRATTLEBORO     VT 1:00:10 19:25 
  126 GERALDINE HOPKINS    39 F   37 BRATTLEBORO     VT 1:00:11 19:25 
  127 HEATHER SMITH        41 F   43 BRATTLEBORO     VT 1:00:12 19:26 
  128 CODY BALIN           25 M   39 DUMMERSTON      VT 1:00:13 19:26 
  129 BRENDA SMITH         29 F  127 HINSDALE        NH 1:03:00 20:20 
  130 BRAEDEN SMITH        10 M  128 HINSDALE        NH 1:03:01 20:20 
  131 HEATHER HOWE         29 F  134 HINSDALE        NH 1:03:03 20:21 
  132 KEITH HOWE           09 M  135 HINSDALE        NH 1:03:04 20:21 
  133 SYLVIA KINNEY        80 F  133 NEWFANE         VT 1:03:33 20:30 
  134 MARIE BURNS          39 F   21 FAIRHAVEN       VT 1:06:47 21:33 
  135 JEANNE COLEMAN       46 F   20 WINHALL         VT 1:06:48 21:33 
  136 LYNDA BARRY          72 F    7 NEWFANE         VT 1:12:06 23:16 
  137 LARRY HOLDEN         39 M   88 NEWFANE         VT 1:12:06 23:16 
  138 JOANNE TESTA         39 F   69 W. TOWNSHEND    VT 1:12:06 23:16