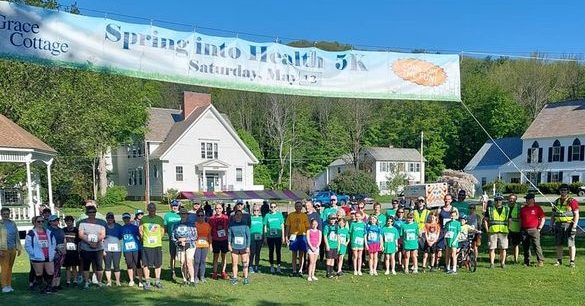 14th Annual SPRING INTO HEALTH 5K – May 13, 2023
What a great Spring into Health 5K we had on May 13!
Grace Cottage Family Health and Hospital hosted its 14th annual Spring into Health 5K Walk and Run on Saturday, May 13, 2023. We were blessed with spectacular weather and had an even better event. We welcomed 75 participants: runners, walkers, and even a participant on rollerblades with a dog!
The Rescue Inc. bicycle team helped keep the participants safe during the event, and we thank them.
Thank you also to our generous sponsors including M&T Bank, Linda Bastian, Big Picture Farm, Blake Hill Preserves, Cota & Cota, Riverbend Farm Market, Smith Family Maple Syrup, and WEEI 93.7 Sports Radio.
Proceeds from this year's 5K totaled over $4,500, and this has been put toward the Patient Care Fund at Grace Cottage.
Congratulations to Al Claussen, the fastest runner at 19:27, and to Kelsey Taddei, the fastest female runner at 22:24. For a full list of the results, click here. For photos of the event, click here.
Special recognition goes to Helen Eddy, our "most experienced" participant. And a shout out to the kids, particularly the Girls on the Run participants who were using this event as practice for their big event coming up soon.  You all were awesome, and we hope you'll keep up the great work!
Thank you to all who participated, and for supporting Grace Cottage.
Mark your calendar for next year's event: Saturday, May 11, 2024. Hope to see you there!!