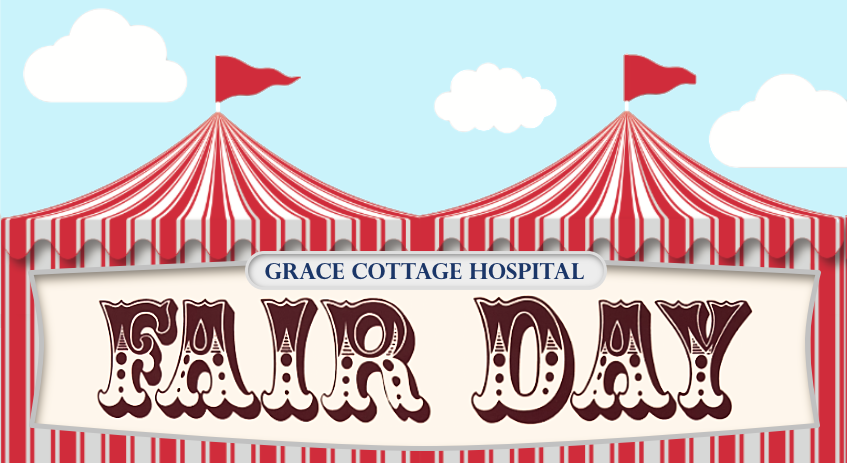 ---
Hospital Fair Day, August 5, 2023
Continuing a tradition that started in 1950, Grace Cottage's 73rd Hospital Fair Day will once again be celebrated on the Townshend Common on the first Saturday of August.
This year, all Hospital Fair Day proceeds go toward our Patient Care Fund, helping this small, rural hospital with the big heart to care for our community in sickness and in health.
As we prepare for this fun-filled day of food, games, friends, auction excitement, and more, there are two ways you can help: by volunteering and by donating.
Volunteers: There are literally hundreds of jobs needing to be done to make the Fair a success, some taking an hour or two, some for much more. It literally takes a village!
Donors: We rely on generous donations, great and small, to fill our booths and auction tent. We accept:
Large (planes, trains, or automobiles) and/or valuable items for our auction. We can't accept exercise equipment or anything upholstered, but other furniture is welcome.
Plants, Books, Art, Jewelry, Pictures & Frames, Toys, and other useful or unique items for our White Elephant Booth.
Fair Day Chair Eileen Fahey will be vetting and accepting White Elephant items at her house in Townshend, across from the hospital. If you want to volunteer, or have something to donate, or have any questions, please get in touch with Eileen: (802) 365-4030 or TheQueenofTownshend@gmail.com
We are looking forward to another spectacular Grace Cottage Hospital Fair Day. Please join us!
2023 Booth Chairs
Here's a list of our Booth Chairs, who so ably led their groups of volunteers. And thank you to Hospital Fair Day Chair Eileen Fahey.
Auction: Andy Coyne, Dr. Robert Backus, & Brian Tebo of Heart Felt Antiques
Bingo – Deb Record
Birthday Parade – Patsy Bemis
Books – Ann Allbee
Corn/Watermelon – Diane Bousquet & Rehab Dept.
Costumes – Karren & Steven Meyer
Cotton Candy – Marcy Moody
Fish Pond – Sarah Holden & Cub Scout Pack #448
Food Booth – Mike, Andy, & Kevin Seaton
Fried Dough – TBD
Gourmet Food – Marilee Attley & Jean Bernegger
Hole-in-One – Sindy Hassig
Ice Cream – TBD
Jewelry – Elaine Swift & Krissy Barker
Lemonade – Sue Belgard-Marquis
Parking – Kirk Petty
Pictures, Frames, & Art – Natalie Donovan
Pies & Baked Goods – Jodi Perkins
Plants – Pat Howell
Popcorn & Balloons – Mike Attley & Sally Winchester
T-Shirts & Hats– Barb Barber
Toys – Brian Mayher & Donald Houle
Treasurer – Stephen Brown
White Elephant – Connie Holt, Helen Holt, Elenka Lott, & Vivian Thorsen
Hospital Fair Day 2022 Success!
A record $105,000 was raised by Hospital Fair Day 2022 which, after expenses, went towards the much-needed expansion of Grace Cottage's Emergency Department, a 17×42-ft expansion to improve patient privacy and security.
On behalf of all the patients that Grace Cottage serves, thank you for supporting Hospital Fair Day.  This small, independent rural hospital wouldn't exist without your support.
Hospital Fair Day Traditions
A tradition began 73 years ago, and it has been vital to Grace Cottage's patient care ever since. The first Hospital Fair Day was held on Saturday, August 5, 1950, organized by the Grace Cottage Hospital Auxiliary, with a healthy mix of fun, fellowship, and fundraising. Thanks to the love, loyalty, and dedication of so many volunteers and fairgoers over the years, this event continues. Grace Cottage relies on the proceeds from this annual event.
In the photo albums below, you can reminisce about past Hospital Fair Days and see some of the babies born here across the years.
Thank you for continuing to support the Annual Grace Cottage Hospital Fair Day!
Grace Cottage Babies
If you were born at Grace Cottage, send us a current picture and tell us your birth year, and we'll add you to our virtual Birthday Baby Parade with our beloved Stork (don't tell anyone, but it's Dr. Timothy Shafer!)
Roll over the photo to see the name and year. Use right and left arrows to scroll through the photos.
Coloring Fun
Get your crayons out — it's coloring time. Click on any of the special Hospital Fair Day coloring pages below, and print the page to color offline.

Reminiscing
We want to reminisce with you. We're posting videos and photos of past Fairs. If you have photos or videos from past Hospital Fair Days that you'd like to share, e-mail them to info@gracecottage.org, and we'll add them to the album.
Hospital Fair Day 2022 Sponsors
Annette Leigh
Phoenix Roofing
Stoneman Masonry