---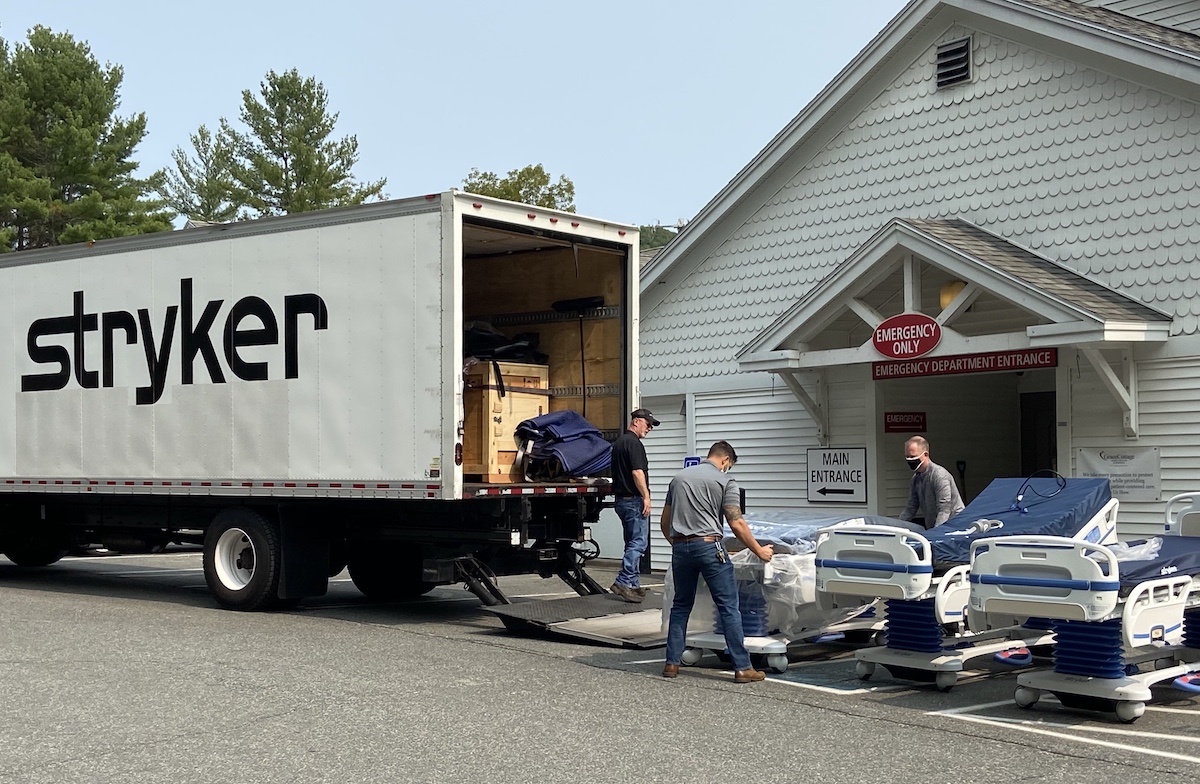 2020 Hospital Fair Day funds helped Grace Cottage purchase these updated Stryker hospital beds!
Grace Cottage VIRTUAL Hospital Fair Day 2021
Planning is now underway for the 2021 Hospital Fair Day. Out of an abundance of caution, Hospital Fair Day 2021 will be a virtual event. Fair Day and physical distancing do not naturally go together, so we will carry on in spirit, if not in person. Grace Cottage relies on Hospital Fair Day to purchase needed improvements and updated equipment.
Hospital Fair Day 2021 will include an online auction August 1-8. If you can donate any high-value items like jewelry, antiques, household items, cars, trucks, snowmobiles, ATVs, motorcycles, boats, etc. (all tax-deductible), call Andrea, C.J., or Charma at 802-365-9109.
To donate arts or crafts, call Art Show Chairperson Lauri Miner at 802-365-4194.
To donate hardcover books, call Book Booth Chairperson Ann Allbee at 802-365-7213.
More activities will be announced soon. For more information about Hospital Fair Day, go to www.gracecottage.org/events or call Fair Day Chairperson Eileen Fahey at 802-365-4030.
71 Years of Tradition
71 years ago, a tradition began that has been vital to Grace Cottage's patient care ever since. The first Hospital Fair Day was held on Saturday, August 5, 1950, organized by the Grace Cottage Hospital Auxiliary, with a healthy mix of fun, fellowship, and fundraising.
Thanks to the love, loyalty, and dedication of so many volunteers and fairgoers over the years, Grace Cottage still provides excellent medical care for the community. Grace Cottage relies on the proceeds from this annual event, which now averages $50,000 each year.
2020 Success
THANK YOU to everyone who worked so hard and contributed so generously to the 70th Annual Hospital Fair Day 2020 campaign for new technologically advanced Stryker beds at Grace Cottage Hospital. The new beds arrived in September.
With your help, Hospital Fair Day 2020 met its campaign goal, raising $67,229 to purchase new hospital beds that are more comfortable for patients, equipped with new technology, and easier for nurses to move and adjust.
On behalf of all of our patients and staff, we thank you!
Each year, Hospital Fair Day allows Grace Cottage to make capital improvements and to buy much-needed equipment. Hospital Fair Day 2019 helped to buy a new air-handling system for the hospital. Hospital Fair Day 2018 helped to purchase and install a generator for the clinic to keep services running during power outages.
Virtual Hospital Fair Day and Traditions
Grace Cottage's Virtual Hospital Fair Days in 2020 and 2021 are keeping alive several important traditions.
In the picture albums below, you can reminisce about Hospital Fair Day traditions. Here you will see Hospital Fair Day faces and events, plus some of the babies born here across the years. We still have Hospital Fair Day 2020 t-shirts and hats for sale; call 802-365-9109. Links below also take you to traditional Fair Day recipes and fun Fair-Day-themed coloring pages, a relaxing activity for both you or your child.
Thank you for continuing to support the Annual Grace Cottage Hospital Fair Day!
Eileen Fahey, Hospital Fair Day Chairperson
Andrea Seaton, Grace Cottage Foundation
Grace Cottage Babies
If you were born at Grace Cottage, send us a current picture and tell us your birth year, and we'll add you to our virtual Birthday Baby Parade with our beloved Stork (don't tell anyone, but it's Dr. Timothy Shafer!)
Roll over the photo to see the name and year. Use right and left arrows to scroll through the photos.
Hospital Fair Day Recipes
Coloring Fun
Get your crayons out — it's coloring time. Click on any of the special Hospital Fair Day coloring pages below, and print the page to color offline.

Reminiscing
We want to reminisce with you. We're posting videos and photos of past Fairs. If you have photos or videos from past Hospital Fair Days that you'd like to share, e-mail them to info@gracecottage.org, and we'll add them to the album.
Hospital Fair Day 2020 Sponsors

Bald Mountain Campground, Townshend
Robert DuGrenier Glass Art Gallery