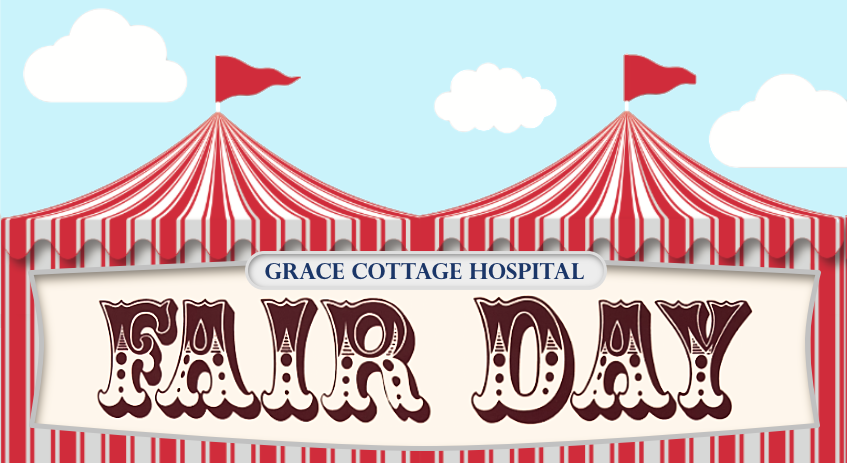 ---
Hospital Fair Day, August 5, 2023
Continuing a tradition that started in 1950, Grace Cottage's 73rd Hospital Fair Day was celebrated on the Townshend Common on the first Saturday of August.
Poignant. That's the word many people used to describe the spirit of Hospital Fair Day 2023.
The hugs, handshakes, claps on the back, smiles, and laughs seen and heard all around the Townshend Common heralded a return to the "olden days." People came out of the hills to volunteer, to buy, to gather, and to glory in being together again. The day was perfect. The crowd was fabulous! The food was delicious. And the sales were wonderful. Thank you to all the fairgoers who made Hospital Fair Day such a success.
A gigantic THANK YOU also to our volunteers. Every one of them gave 110%. We also appreciate all our extremely generous donors who provided us with wonderful items to sell. Extra special gratitude to Brian Tebo of Heart Felt Antiques and Auction House, our volunteer auctioneer, and longtime volunteer auctioneer Kit Martin, who stepped in to give Brian much-needed breaks during the 5-hour auction.
This was the second highest-grossing Fair Day in history, raising over $80,000 for Grace Cottage Family Health. Hundreds of people played a part in raising this impressive total, with donations of time, talent, expertise, energy, and dollars. This year, all Hospital Fair Day proceeds will go to our Family Health Clinic, helping this small, rural hospital with the big heart to care for our community in sickness and in health. On behalf of the patients that Grace Cottage serves, thank you all so very much.
---
Hospital Fair Day Traditions
A tradition began 73 years ago, and it has been vital to Grace Cottage's patient care ever since. The first Hospital Fair Day was held on Saturday, August 5, 1950, organized by the Grace Cottage Hospital Auxiliary, with a healthy mix of fun, fellowship, and fundraising. Thanks to the love, loyalty, and dedication of so many volunteers and fairgoers over the years, this event continues. Grace Cottage relies on the proceeds from this annual event.
In the photo albums below, you can reminisce about past Hospital Fair Days and see some of the babies born here across the years.
Thank you for continuing to support the Annual Grace Cottage Hospital Fair Day!
Grace Cottage Babies
If you were born at Grace Cottage, send us a current picture and tell us your birth year, and we'll add you to our virtual Birthday Baby Parade with our beloved Stork (don't tell anyone, but it's Dr. Timothy Shafer!)
Roll over the photo to see the name and year. Use right and left arrows to scroll through the photos.
Coloring Fun
Get your crayons out — it's coloring time. Click on any of the special Hospital Fair Day coloring pages below, and print the page to color offline.

Reminiscing
We want to reminisce with you. We're posting videos and photos of past Fairs. If you have photos or videos from past Hospital Fair Days that you'd like to share, e-mail them to info@gracecottage.org, and we'll add them to the album.
Hospital Fair Day 2023 Sponsors