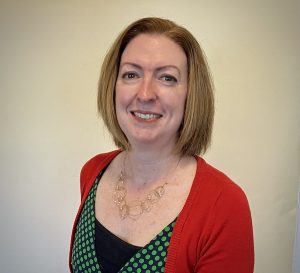 Degrees
Master, Social Work, Boston University, Boston, MA
BA, English, Boston University, Boston, MA
Certifications
Licensed Independent Clinical Social Worker
Professional
Kenyon started her practice in Somerville, MA, providing treatment for substance use disorders and people with dual diagnoses. Since moving to Vermont in 2004, she has worked in a number of programs at the Brattleboro Retreat (including inpatient and Partial Hospitalization), and moved to a primary care practice in Greenfield in 2017.
Kenyon joined the Grace Cottage Family Health staff in 2020. She is eclectic in her practice, including elements of mindfulness, Cognitive Behavioral Therapy, and Motivational Interviewing.
Prior to social work, Kenyon was employed in advertising at Filene's, a northeastern department store.
Personal
Kenyon, her husband, and pets have lived in Townshend since 2007. She loves cooking, horseback riding, gardening, and time with friends and family. Someday, she hopes to knit something more ambitious than a scarf.
"Initially, I was lured to Grace Cottage by a former supervisor, who thought I'd be attracted to working closer to home. It's turned out to be one of the better decisions of my professional life. These are caring, thoughtful, compassionate professionals, and I feel proud to be a part of this team."