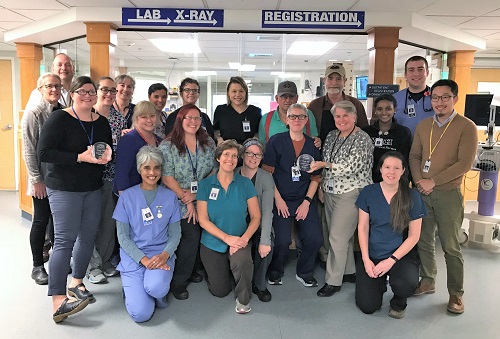 Every employee is a valued member of the team at Grace Cottage Family Health & Hospital. Whether you are a new graduate or have twenty years of experience, your voice matters. You will be joining a friendly team dedicated to providing excellent and compassionate patient care. Our small size makes possible the warm, individualized, and professional care upon which Grace Cottage has built its well-deserved reputation.
Awards
Grace Cottage offers career opportunities in all areas of patient care, from nursing, to facilities management, to finance, dietary, and hospital administration. For the past five years in a row, employees have voted for Grace Cottage as the "Best Place to Work in Windham County" in the Brattleboro Reformer Readers Choice Awards. We've been designated a "Top 20″ Critical Access Hospital in the U.S. for Patient Satisfaction," and we are certified as an "Age-Friendly Health System" by the Institute for Healthcare Improvement for our excellence care for older patients.
Facility
Grace Cottage Family Health & Hospital is a five-building healthcare center located in Townshend, VT.
Grace Cottage Hospital is a 19-bed inpatient facility for acute and rehabilitative care, equipped with on-site Lab and Radiology, as well as a 24-hour Emergency Department. We are renowned for both our inpatient and outpatient Physical and Occupational Therapy.
Grace Cottage Family Health is a federally-certified Rural Health Clinic, providing family practice, pediatrics, geriatrics, and mental health to approximately 7,000 individual patients annually. Grace Cottage also operates a busy full-service retail pharmacy, Messenger Valley Pharmacy, open to the public and located across the street from the main building.
For more information about employment at Grace Cottage, contact the Human Resources Director:
Phone: (802) 365-3632
Email: employment@gracecottage.org