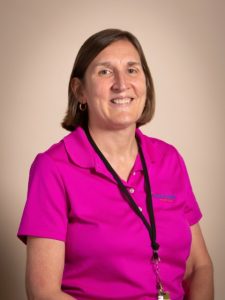 Claire Bemis is the Care Coordinator for the Grace Cottage Family Health Community Health Team. She helps to coordinate various healthcare services for patients with chronic and complex needs.
Bemis earned her BSN degree from Norwich University in 1991.
Whether or not you receive your primary healthcare at Grace Cottage Family Health, you are welcome and encouraged to use the services to the Grace Cottage Community Health Team (CHT). Community Health Team services are free for anyone, regardless of income level. If  you have health insurance, it will NOT be billed.
Bemis can help you with chronic disease management, medication management, and establishing and working toward nutrition and fitness goals. She can also help to connect you to food resources and social services (reduced rates for health insurance, electricity, etc.). Bemis provides personalized support for clients as they work through difficult lifestyle changes aimed at improving their health. She also leads a monthly Alzheimer's/Dementia Caregiver Support Group.
To schedule an appointment, contact the Grace Cottage Community Health Team at (802) 365-3763.