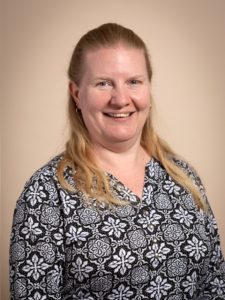 Degrees:
A.S., Physical Therapy Assistant, New Hampshire Community Technical College (now River Valley Community College), Claremont, NH
Additional Certifications:
Coburn is trained to teach both Strong Bones and Tai Chi for Rehabilitation & Fall Prevention. She teaches these classes through the Grace Cottage Wellness Programs.
Professional:
Pam Coburn joined the Grace Cottage Rehabilitation staff in 1994. She is a Physical Therapy Assistant who specializes in geriatric and orthopedic rehabilitation.
She enjoys working with patients of all ages and situations, in both the outpatient and inpatient settings. She also enjoys teaching Strong Bones and Tai Chi classes to the community.
Personal:
Coburn lives with her husband Roy in Jamaica, VT. She enjoys outdoor activities and spending time with family and friends.
"As a PTA, I get to work closely with the Physical Therapists and other healthcare providers at Grace cottage to help our patients meet their goals."