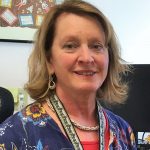 By Deborah Brown, Grace Cottage Family Health Diabetes Educator
as originally appeared in the Brattleboro Reformer's Graceful Health column, March 24, 2017
Do you have diabetes? If you said no, how do you know?
As many as 8 million Americans have this disease without knowing it. And even without obvious symptoms, undiagnosed diabetes can still be ruining your health.
Diabetes is the 7th leading cause of death in the U.S. Heart disease and stroke are two-to-four times more common in those with diabetes. It is the leading cause of new cases of blindness in adults, and of end-stage kidney disease. More than half of the amputations of feet and legs are due to diabetes; 60-70 percent of those with diabetes have some nerve damage; and diabetes contributes to serious infections and gum disease.
Diabetes is caused by the body's inability to produce or use insulin—the hormone that helps move glucose inside the cells to provide energy.
Read More...