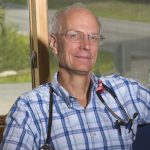 By Dr. Timothy Shafer, Grace Cottage Family Health
Did you know that you have the potential to save eight lives, by donating your organs after you die? All across the nation, thousands of people are waiting for a heart, lung, liver, pancreas, kidney, or intestines. Others could benefit from a tissue donation. You could make the difference.
It's understandable that talking about organ donation is difficult. Until the issue touches you directly, affecting you or someone you know, it's easier to avoid the topic.
Consider, though, that this is one way you can save someone's life without risk to your own.
Consider also the following illustrative story: A baby boy was born a few years ago. It should have been a happy occasion, but instead, there was much anxiety because the baby had two malfunctioning kidneys. If only one kidney was faulty, he could have survived that way.
It is actually fairly common to live with one kidney. Some people are born this way. Amazingly, others give away one of their kidneys to help someone who needs it. As long as they protect the remaining kidney, they can live normal lives.
Read More...