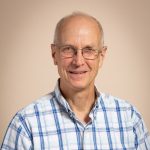 We are proud to announce that Dr. Tim Shafer has been chosen as this year's recipient of the Vermont Academy of Family Physicians (VTAFP) Distinguished Service Award!
The award will be officially presented on Friday, November 3, during the annual collaborative meeting of the Vermont Medical Society, Vermont Academy of Family Physicians, Vermont Psychiatric Association, and the American Academy of Pediatrics Vermont Chapter.
In the award announcement, Dr. Shafer was cited for his long-standing and dedicated career in family medicine and his "care for your patients and community with unique generosity, dedication, integrity, optimism and energy."
Dr. Shafer has also been named "Best Doctor" in the Brattleboro Reformer's Readers Choice Awards poll in both 2022 and 2023.
He has practiced family medicine in Townshend, VT, since 1984, when he joined Grace Cottage as part of the National Health Services Corp, sponsored by the Valley Health Council. When that service was completed, he maintained his own private practice in Townshend until rejoining the Grace Cottage Family Health staff in 2003.
Dr. Shafer is board certified in family practice. A graduate of Oberlin College and Dartmouth School of Medicine, Dr. Shafer completed his residency at the Lancaster (PA) General Hospital Family Practice Residency Program.