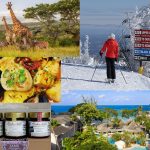 Grace Cottage's Cabin Fever Online Auction is a perfect way to bring fun and joy to your winter. You'll find items that are practical, delectable, delightful, and inspirational! Bidding takes place Feb. 14-27, 2023.
Each year, Grace Cottage Family Health & Hospital's Cabin Fever Online Auction includes exotic vacations, Vermont foods, local gift certificates, handcrafted items, jewelry, art, and more. Generous local businesses and individuals donate this awesome array of items. With a wide variety of offerings, there's something for everyone, whatever your interests or budget.
All proceeds support patient care at Grace Cottage Family Health & Hospital.
You can visit the auction website now to get registered, check out the selection, and plan your bidding. Visit 32auctions.com/CabinFeverAuction2023 and register so you can hit the ground bidding on Valentine's Day!
For more information, visit gracecottage.org/auction or e-mail info@gracecottage.org.