COVID-19 Boosters and Flu Shots
If you haven't yet gotten your flu shot and the COVID-19 booster (bivalent vaccine), it's not too late. According to Vermont Health Commissioner Mark Levine, "Late fall ushers in the cold and flu season, and viruses can spread quickly. As Vermonters spend more time inside, we expect to see an increase in respiratory illnesses and hospitalizations. The flu vaccine takes about two weeks to be fully effective…so, I strongly encourage everyone to get their shots as soon as possible to keep themselves and their families healthy."
With Thanksgiving and other holiday gatherings just around the corner, now is the time! The Centers for Disease Control (CDC) recommends that you get both shots done at the same time, and many of our patients are doing this to save time and travel. Call 802-365-4331 to set up an appointment for one or both shots here at Grace Cottage, go to your local pharmacy, or visit www.healthvermont.gov/MyVaccine to find a walk-in clinic near you in Vermont. Anyone can get vaccinated in Vermont, including those who live in another state, are non-U.S. citizens, or who have no insurance. Flu shots are available for ages 6 months and up; people age 65 and older, should get the high-dose flu vaccine.
According to the CDC, fully-vaccinated adults age 65 years and older are 94% less likely to be hospitalized with COVID-19 than people of the same age who haven't received their COVID-19 vaccinations. Isn't this reason enough to get a COVID-19 booster shot?
Respiratory Syncytial Virus
Respiratory Syncytial Virus is a common respiratory virus that usually causes mild, cold-like symptoms. Most people recover in a week or two, but RSV can be serious, especially for infants and older adults. RSV is the most common cause of bronchiolitis (inflammation of the small airways in the lung) and pneumonia (infection of the lungs) in children younger than 1 year of age in the United States. Call your healthcare provider if your child is having difficulty breathing, not drinking enough fluids, or experiencing worsening symptoms.
Emergency Department Expansion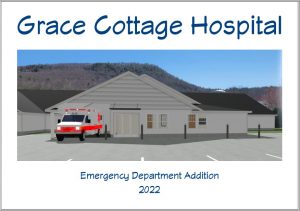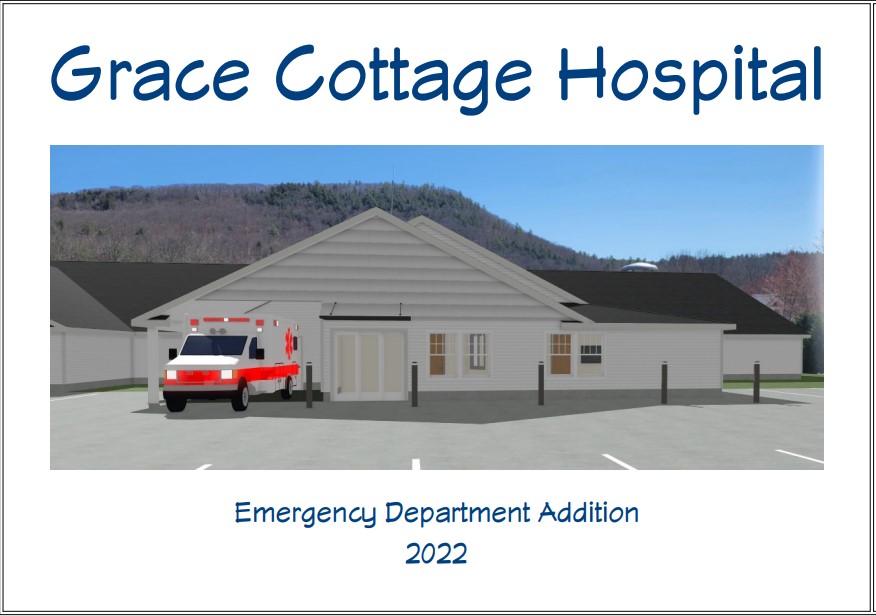 We've received our long-awaited Act 250 permit from the Vermont Agency of Natural Resources' District 2 Environmental Commission to begin construction on our 17' x 42' Emergency Department addition, which will increase security, efficiency, and patient privacy.
This is great news but, due to a delay caused by supply chain issues, we won't be able to start construction until the first week of January.
The Emergency Department will remain fully open throughout the construction process. The temporary entrance, which will be located in the glassed-in Nessel Pavilion on the south side of the hospital, will be well marked, with a receptionist ready to greet you, 24/7.
We are grateful to so many community members whose generosity makes this project possible.
Poetic Patient Testimonial
Grace Cottage receives a great deal of praise from patients, but rarely in the form of a poem! We've been given permission by the hospital patient to share his unique testimonial with you:
Ode to Grace Cottage
To all at Grace Cottage we send our thanks
The Salomon girls & especially dad Frank
A great health facility in such a little town?
Really? Most folks would skeptically frown.
Administrators, doctors, nurses, et al
Are the BEST & always there & on call.
Such nice & gifted people are hard to find
Even the food: you think you've fine-dined.
If you have to get sick, it's the place to go
The care, the people, the setting is just so!
So, we raise our glasses to the GC team
They are the ideal about which we dream.
Lisa, Yana, and patient Frank Salomon, Brattleboro, VT
Giving Tuesday 2022
Immediately following Thanksgiving, Black Friday, and Cyber Monday comes Giving Tuesday—November 29, 2022 is a worldwide day of generosity and thankfulness. This year, all proceeds from Grace Cottage Family Health & Hospital's Giving Tuesday will help us to expand the size of our Emergency Department. Your donations will be used to add space to improve patient privacy, security, and efficiency of emergency care.
At Grace Cottage, we are constantly looking at how we can improve our infrastructure and processes so that we can offer the best care possible, and donations help us to do this. We're welcoming Giving Tuesday donations throughout the month of November; click here to make a gift.
We hope you never need our Emergency Department, but we're here if you do, thanks to support such as yours! I want to take this opportunity to wish you and your loved ones a safe, happy, and healthy Thanksgiving holiday.
Doug DiVello
President & CEO
Grace Cottage Family Health & Hospital