COVID-19 Update: Boosters
Yes, COVID-19 continues to be among us, as I can attest. I successfully made it through 2020, 2021, and most of 2022 before contracting it, but my wife and I both came down with it a few weeks ago and have finally fully recovered. We're very glad that we'd both been fully vaccinated, thereby reducing our viral load.
As we all know by now, the virus impacts everyone differently; some have flu-like symptoms, some have symptoms that are more like a common cold, and others with COVID may have no symptoms at all. An estimated 10-30 percent of the 93 million Americans who have contracted COVID now suffer from long COVID.
We will soon be offering updated COVID-19 booster shots for our patients. If you live in Vermont and prefer not to wait until we receive our supply or are not a Grace Cottage patient, you can click here to find a walk-in clinic near you. If you live outside of Vermont, click here to find a vaccine site near you.
This bivalent vaccine targets the BA.4 and BA.5 subvariants of Omicron (80% of recent samples of the virus in Vermont, according to the Vermont Department of Health). Pfizer vaccines are being offered to anyone 12 and older, and Moderna to those 18 and older. The bivalent vaccine contains antigens from the original strain of COVID-19, along with the BA.4 and BA.5 strains. This vaccine may be taken two months after a last dose of the vaccine (whether a primary or booster shot). If, like me, you've had COVID-19 recently, it's suggested that you wait about three months for the bivalent vaccine, since we have a natural immune response for the short term.
Grace Cottage's Chief Medical Officer, Dr. George Terwilliger, has said from the beginning of the pandemic that we'll all get COVID-19 eventually, but vaccinations and booster shots can minimize the impact for many of us. And, while we're talking about vaccines, don't forget to have your annual flu shot when they become available next month.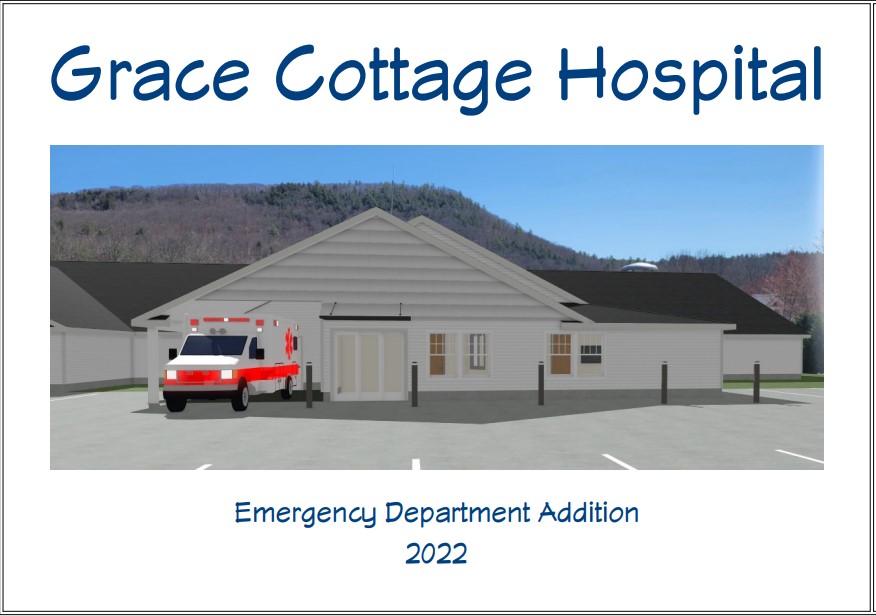 Emergency Department Expansion
We're very pleased and excited that our Emergency Department Expansion project is on target to begin next month, to be completed by spring. This 42'x17' addition is greatly needed to improve patient privacy, comfort, and security. When the current Emergency Department was constructed in 1997, the number of patients seen per day was much lower than it is currently. In fact, our ED volume last month was up 74% over our projections.
If you're interested in learning more about the project, you can watch the Brattleboro Community TV video of the August 23, 2022 Townshend Selectboard meeting, which I attended with Andrea Seaton, Senior Director of Development, Marketing, and Community Relations. Our presentation is at the beginning of the meeting; we were there to ask for a Letter of Support from the Selectboard for a grant application, which they were happy to provide. If you prefer not to watch a video, but would like to learn more about the project, click here to view our Act 250 application to Vermont Agency of Natural Resources.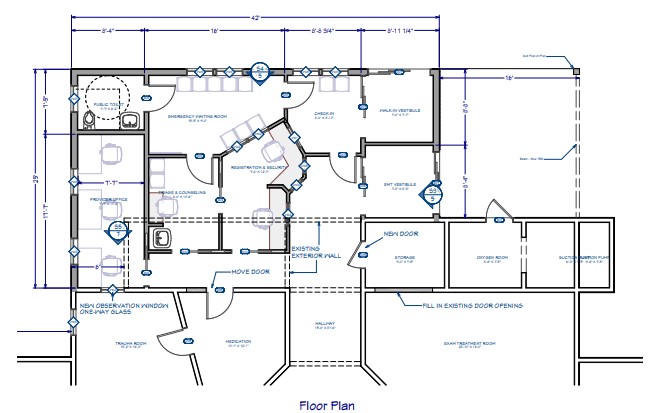 Six-Time Best of Brattleboro Award Winner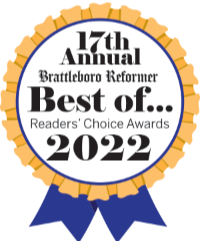 Best of Brattleboro Awards: For the sixth year in a row, Grace Cottage has been named "Best Place to Work" in Windham County and "Best Physical Therapy" in the Brattleboro Reformer's 2022 Readers' Choice Awards. For the fourth year in a row, Grace Cottage was also named "Best Hospital", "Best Emergency Care", "Best Doctor" (Dr. Timothy Shafer, and Grace Cottage's Nurse Practitioner David McCormack came in second in the "Best Doctor" Category!) and "Best Pharmacy". Dr. Elizabeth Linder, who is back at Grace Cottage on a per diem basis for the summer/fall, came in second as "Best Pediatrician." Congratulations to all of our employees who make these awards possible. We're so pleased that our community feels this way about Grace Cottage.
Best Hospital
Best Emergency Department
Best Physician
Best Physical Therapy
Best Pharmacy
Best Place to Work
Doug DiVello, President & CEO
Grace Cottage Family Health & Hospital