Our summer weather here in Vermont has been glorious although, much as I hate to say it, we could use a few days of soaking rain to replenish streams, ponds, and aquifers.
But we've been delighted to enjoy excellent weather for our summer events, and we are especially hoping for a beautiful day on Saturday, August 6th, when we celebrate our 72nd Annual Hospital Fair Day from 9 a.m. – 3 p.m. on the Townshend Common.
Fair Day 2022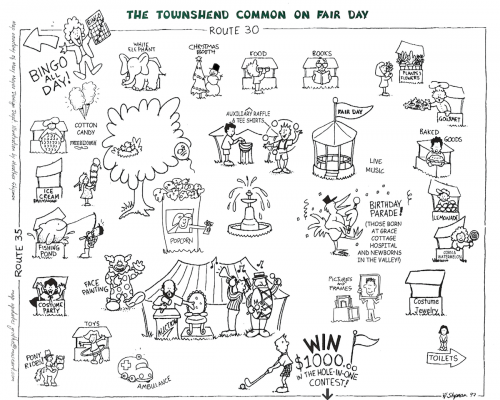 This will be our first full Fair Day since 2019, and the excitement is palpable! Volunteers are working hard to organize and sort items that are being delivered to us daily, including art, antiques, jewelry, books, household items, furniture, and so much more. Brian Tebo of Heart Felt Antiques will be our auctioneer this year, with a guest appearance by our former auctioneer, Kit Martin. Entertainment will be provided on the gazebo throughout the day by Tim Townshend & the Heart Achers, and Ralph Sherman and, for more entertainment, the Bingo Booth will be going all day. The traditional Birthday Parade will start at 10 a.m., led by the Taconic Bagpipers and our iconic stork – if you were born at Grace Cottage, please join in the procession.
And plan come to the Fair hungry so that you can enjoy watermelon, grilled corn on the cob, pies, the Gourmet Booth, hamburgers, onion rings, popcorn, fried dough, ice cream, cotton candy, and so much more. Costumes and temporary tattoos are available for the kids, along with fun at the Fish Pond. If shopping for bargains is your pleasure, the White Elephant, Book, Jewelry, Plants, Toy, and Christmas booths offer something for everyone. As Grace Cottage's founder, Dr. Carlos Otis, used to say, "Spend freely!" It's for a great cause – all proceeds of Fair Day will be used toward the expansion of our Emergency Department.
17th Annual Tour de Grace Bicycle Rally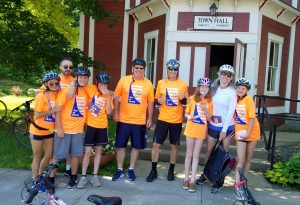 Speaking of events, our 17th Annual Tour de Grace bicycle rally on June 25th from Stratton to Grace Cottage was a great success, and I want to thank all of our riders, volunteers, and sponsors: Stratton Resort; Solstice at Stratton; Linda Bastian; Cota & Cota; C&S Wholesale Grocers; Equipe Sport; Howard Printing; Three Mountain Inn; West River Provisions; and Winot Works.
Our youngest rider was 6 years old, and our "most experienced" rider was 81, and a great time was had by all 93 participants (101 had signed up but not everyone rolled out of bed that morning!), especially by those who saw the baby eagles near the Townshend Dam! I want to give a special shout out to Trevor Hazelton, who singlehandedly volunteered to carry bikes up the Townshend Dam steps, no easy feat.
New Providers at Grace Cottage Hospital
Meanwhile, we're continuing to care for patients in our hospital, Emergency Department, and in Grace Cottage Family Health; it's been a busy summer. We'll be adding two new medical providers in October: Dr. Wyll Everett and Dr. Marc-Olivier Ratte, and I'll have more to say about that in next month's Message to the Community.
As the mental health needs of our community increase, I'm very pleased to announce that we have added two providers to our excellent Mental Health team, working in tandem with Psychiatric Nurse Practitioner Ben Wright:
Licensed social worker Meredith Kenyon, who has been working at Grace Cottage for the past two years as an employee of The Brattleboro Retreat, is now employed full-time by Grace Cottage. A graduate of Boston University's Master of Social Work program, Kenyon worked at The Brattleboro Retreat and at Baystate Health.
Elise Kraus has joined Grace Cottage as a full-time Psychiatric Nurse Practitioner. A graduate of Maryville University with a Master of Science in Nursing, Kraus most recently worked at Dartmouth Health in Bedford, NH and prior to that she worked at Southern State Correctional Facility in Springfield, VT.
I hope you have a happy and healthy summer. I look forward to seeing you at Hospital Fair Day — I'll be the one grilling the corn on the cob!
Doug DiVello, President & CEO
Grace Cottage Family Health & Hospital