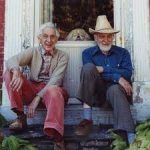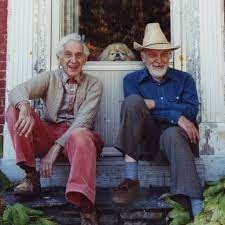 On Tuesday, June 28, Grace Cottage Family Health & Hospital, in association with Valley Cares, will mark the last week of LGBTQ+ Pride Month with a special presentation by Andrew Ingall and members of the Townshend Community, honoring the legacy of Warren Kronemeyer & Leon Ingall.
In 2004, Warren Kronemeyer generously donated the home and 9.85 acres on Route 35 in Townshend that he had owned with his lifetime partner, Leon Ingall, to Grace Cottage (the couple operated their business, Warlé Antiques, in their beautiful 1810 Federal-style red brick home). In 2005, Grace Cottage donated the house and property to Valley Cares for their assisted- and independent living project which, since it opened in 2007, has been providing excellent care and housing for seniors in our community.
Please join us for this presentation, in the form of remembrances, stories, and artifacts shared by those in the community who knew and loved Warren and Leon. Due to space constraints, this will be a virtual presentation, open to all via this ZOOM link: Grace Cottage Family Health and Hospital is inviting you to a scheduled Zoom meeting. If you'd like share a remembrance of Warren and Leon,  or just listen in to the live presentation, please plan to join in via Zoom:
Warle: A Celebration & Remembrance of Warren Kronemeyer & Leon Ingall
Time: Jun 28, 2022 02:00 PM Eastern Time
Join Zoom Meeting
https://gracecottage.zoom.us/j/85279922937?pwd=TFp4S3IyQUk3VCtydFZyNUlWS2pEZz09
Meeting ID: 852 7992 2937
Passcode: 602059
The presentation will be digitized for later viewing via Brattleboro Community TV and on YouTube. Thank you for joining us for this celebration.