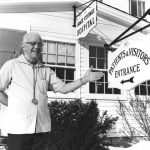 The 69th Annual Grace Cottage Hospital Fair Day will be held on the Townshend Common on Saturday, August 3rd. This free all-day, family-friendly event runs from 9 am – 4 pm.
This year, in celebration of Grace Cottage Family Health & Hospital's 70th Anniversary, a special presentation will be held on the Gazebo on the Townshend Common from 10:45 to 11:00 a.m. on Fair Day. Members of the family of the hospital's founder, Dr. Carlos Otis, will speak, along with Grace Cottage's CEO, Doug DiVello, and a resolution that was passed by the Vermont legislature will be read. Past and present employees, patients, and community members are encouraged to join this celebration.
Voted a Top 10 Summer Event two years ago by the Vermont Chamber of Commerce, Grace Cottage's Hospital Fair Day has also been called "New England at its finest" by the Boston Globe.
The annual fair features activities to please the whole family: a live all-day auction, an arts show and sale (in the Townshend church), a birthday parade with dancing stork and bagpipes (10 am), bargain booths (white elephant, books, plants, jewelry, and more), all-day bingo, pony rides, face painting, kids games, a bouncy house, a dunking booth, musical entertainment, a $1000 hole-in-one contest, and many, many food options — from sausage grinders, homemade pies, cotton candy, fried dough, fresh lemonade, and corn-on-the-cob.
The event will be held rain or shine. For more information, visit www.gracecottage.org/fairday