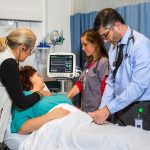 Great News! Thanks to the generosity of a very supportive community, we have reached our goal of $76,000 to purchase a new Cardiac Monitoring System.
89 Grace Cottage supporters from 13 different states contributed to the Giving Tuesday appeal, for a total raised of $24,467!  When added to donations from 11 other supporters that had been given for the Cardiac Monitoring System prior to Giving Tuesday, our goal was reached and we will be purchasing the system for the Emergency Department and hospital patient use.
According to Emergency Department Director Dr. Kimona Alin and Chief Nursing Officer Lisa Eaton, this new system will enable us to track patients' vital signs with greater accuracy and efficiency than ever before. The hospital nursing staff in particular is elated by this gift!  An astonishing 31.5% of the Giving Tuesday donations were from Grace Cottage employees.
On behalf of all the patients that we serve, a huge thanks to all who reached deep into their pockets to help out!