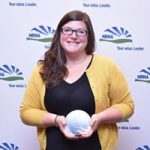 In early October, Grace Cottage Hospital Nurse Manager Rebecca Lapointe returned from the National Rural Health Association's annual Critical Access Hospital conference in Kansas City carrying a prestigious award.
For the second year in a row, Grace Cottage Hospital achieved national recognition as a "Top 20 Critical Access Hospital (CAH) for Best Practice – Patient Satisfaction." Out of more than 1,300 CAH facilities throughout the United States, Grace Cottage scored in the Top 20 for "Best Practices in Patient Satisfaction" due to the hospital's high rankings on the Patient Perspective Index (PPI). The PPI measures the "overall rating" given to a hospital by patients, and the frequency with which patients state their likeliness to "highly recommend" the hospital as a healthcare organization of choice.
"Every one of our employees has contributed to Grace Cottage achieving this designation. I couldn't be more proud," offered Douglas DiVello, Grace Cottage Family Health & Hospital CEO.
In the accompanying photograph are Grace Cottage staff members who assembled when the 2017 and 2018 crystal awards were brought to the nurses' station: Dr. Kimona Alin (ER Director), Doug DiVello (CEO), Rebecca Lapointe (Nurse Manager), Crystal Moore, Elise Vinton, Shelly Beck (nurses), Lisa May (Nurse Educator), Brooke Lazar (housekeeping), Eddie Benoit (maintenance), Doug Tweedy (dietary), Jemez Jopin (EMT), John Kim (Director of Pharmacy), Melinda Roy (occupational therapist) Amanda Stoddard (LNA), Stacey Switzer (nurse), Lisa Eaton (CNO), Itara Jacobs (radiologic tech), Carryn Francis (nurse), Diane Bousquet (occupational therapist assistant), Dawn Bathwick (nurse), and Margaret Herreid (LNA).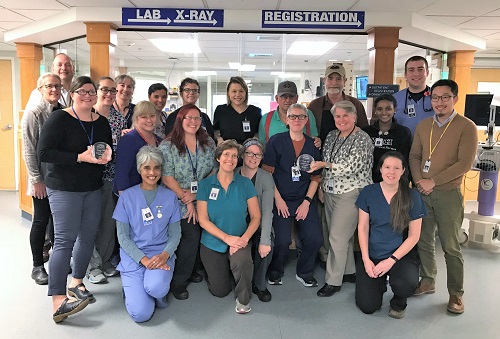 Serving the healthcare needs of patients in and around Windham County since 1949, Grace Cottage Family Health & Hospital provides 24/7 emergency care; inpatient care; physical, occupational, and speech rehabilitation; primary care and mental health services. For more information, visit www.gracecottage.org.