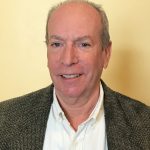 Dr. Ronald Vallario is now seeing patients at Grace Cottage Family Health three days a week. A native of New Jersey, Dr. Vallario is a graduate of Rutgers University (B.A. in Psychology), University of South Carolina (Masters of Social Work), and Robert Wood Johnson Medical School; he completed his family medicine residency at North Carolina Memorial Hospital in Chapel Hill.
He is an assistant professor at the University of Massachusetts Medical School in Worcester, MA. Before joining Grace Cottage, he was Associate Medical Director/Geriatrician at Summit ElderCare/Fallon Health in Worcester, MA and, prior to that, he was the Medical Director and a primary care physician at Mountain Valley Medical Clinic in Londonderry, VT (2005-2014) and an Emergency Department physician at Brattleboro Memorial Hospital (2004-2009).
Dr. Vallario and his wife, Michele, live in Bondville, VT, and have three grown children. His hobbies are running, tennis, and photography.
"I have always been impressed with the history of Grace Cottage and its commitment to its community and its patients, and I have heard only good things about the hospital and its outstanding team of professionals," said Dr. Vallario, who practices primary care and family medicine.
To schedule an appointment with Dr. Vallario, call 802-365-4331.