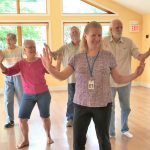 Starting August 22, Grace Cottage Family Health & Hospital will host a new, free beginner level Tai Chi class in its Community Wellness Center. The series runs for six weeks, Wednesdays and Fridays, from 9:00 – 10:00 am.
The soft, flowing movements of this ancient Chinese practice are widely acclaimed as one of the most effective overall exercises for physical and mental health. Tai Chi is especially beneficial for flexibility, balance, coordination, posture and breathing. This type of exercise has been proven to help its participants avoid debilitating falls. The movements can be performed standing, or sitting if necessary.
This 'Tai Chi for Fall Prevention' class is offered through the Rehabilitation Services Department at Grace Cottage by certified instructors Ruth Fleming, PT and Pam Coburn, PTA.
The series is free. Pre-registration is required and class size is limited. While it is understandable if you cannot attend every class, regular attendance is encouraged. To register or for more information, call 365-3649.
For those who have completed a Level 1 class series, Level 2 and 3 class series are offered on Tuesdays with instructor Alicia Moyer of SASH. Her next Level 2 and 3 series begins September 4 and runs for ten weeks. For more on these classes, or to register, call Alicia directly at 365-4115, x108.
All classes are held in the spacious and serene Community Wellness Room in the Heins Building at 133 Grafton Road, Townshend.
# # #