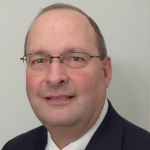 The Board of Trustees of Grace Cottage Family Health & Hospital has appointed Douglas F. DiVello to the position of chief executive officer, effective February 12, 2018. DiVello is replacing Roger Allbee, who announced his plans last July to retire from this position as soon as a replacement was hired.
DiVello was the CEO at Alice Hyde Medical Center in Malone, NY from 2012 until May, 2017, when the hospital became part of the University of Vermont Health Network. From 2002-2012, he was the VP of Professional & Support Services at Central Maine Medical Center in Lewiston, ME. Prior to that he was at Norton Hospital in Louisville, KY, with previous experience at Maimonides Medical Center in Brooklyn, NY. DiVello is a graduate of Western Maryland College with an MPA in Health Administration from Long Island University.
An extensive search was launched this past fall, and DiVello was selected from over 50 applicants and five finalists. "We are honored to have someone with Doug's impressive healthcare credentials coming to lead Grace Cottage," offered the hospital's Board President Stephan Morse.
"In today's complex and evolving healthcare landscape, Grace Cottage Hospital is remarkably unique," said DiVello. "The organization is a national leader in providing hands-on care in a personal and compassionate manner, and I am excited and proud that Grace Cottage has chosen me to join their talented and exceptional team."
Grace Cottage Family Health & Hospital is located in Townshend, VT, serving patients and visitors in and around Windham County. It includes a traditional primary care practice, a 19-bed hospital, and a 24/7 emergency department. The medical center also has an outpatient rehab department, a laboratory, diagnostic imaging, and a full-service retail pharmacy. In 2017, Grace Cottage was recognized as a Top 20 Critical Access Hospital in the USA for Patient Satisfaction by the National Rural Health Association.