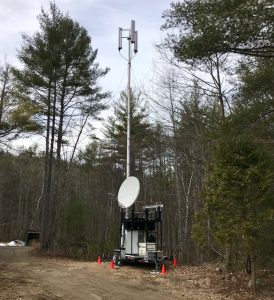 Greg Sukiennik of the Brattleboro Reformer reports on the quick response of Governor Phil Scott's office and AT&T in keeping cell phone reception in tact at Grace Cottage Family Health & Hospital.
Grace Cottage President and CEO Doug DiVello told the Reformer the COW was driven east from Missouri and arrived at the hospital over the weekend. He said hospital Facilities Director Scott Hitchcock and Informational Technology Manager Travis Macie worked closely with AT&T to have it installed on the property.
DiVello said the hospital is "very pleased and surprised" at how quickly a solution came about.
"You can't imagine how great it is to have the knowledge that people who need to make a phone call, particularly in an emergency situation, will have the ability to do that," he said. "As a health care organization we pride ourselves on our mission to take care of people in this region."
Read the whole article here.