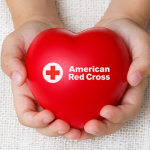 By Tanya Noyes, Grace Cottage Lab Director
January is National Blood Month. According to the American Red Cross, winter is "one of the most difficult times of year to collect enough blood products to meet patient needs," partly because of busy holiday schedules and bad weather, which sometimes results in canceled blood drives. Also, seasonal illnesses such as the flu sometimes force potential donors to forgo their blood donations.
National Blood Donor Month is a reminder that, despite these challenges, blood donations are crucial all year round.
National Blood Donor Month has taken place each January since 1970, and it is such an important observance. Donating blood saves many lives and improves health for many people. According to the World Health Organization, "blood is the most precious gift that anyone can give to another person — the gift of life. A decision to donate your blood can save a life."
People often wonder if it is safe to give up a pint of one's blood. The plasma, which is the liquid part of your blood, is replaced within the first 24 hours. The red blood cells themselves are continuously being made from stem cells within your bone marrow in response to natural attrition and other losses (like donating), and will ramp up production until they are back to baseline levels. This may take 4-6 weeks, which is why eight weeks are usually required between blood donations.
Blood donations help Grace Cottage and other hospitals to prepare for emergencies when patients need blood. Grace Cottage Hospital relies on blood donations to supply its blood bank.
You may be interested to know that patients may receive whole blood or just specific components of the blood that are needed to treat their particular condition. This allows several patients to benefit from the same pint of whole blood that is donated. In 2022, Grace Cottage helped 55 patients with transfusions of blood or blood components.
Whole Blood Transfusions are used for patients with a variety of needs. Of course, if a patient is losing blood due to a severe cut, replacing that whole blood is vital. Patients may also need whole blood transfusions as a result of internal injuries from a car accident or other trauma, or if they have anemia or medical conditions like leukemia or kidney disease.
Blood plasma, which is one of the components from whole blood, has many lifesaving ingredients, including minerals and coagulation factors that help to clot and stop the bleeding. For example, a patient on warfarin, a medication to prevent blood from clotting, will take longer than usual to stop bleeding from an injury. One patient in Grace Cottage's Emergency Department had fallen and hit their head. This fall had resulted in a bleed near the brain, and the bleed needed to be stopped quickly. Plasma was ordered from the Blood Bank, which helped to stop the bleed.
Plasma transfusions can also help to stabilize patients who have vitamin K deficiencies or other clotting disorders. Grace Cottage's Emergency Department providers have also administered plasma to save the life of a person suffering from a severe anaphylactic (allergic) reaction.
Grace Cottage relies on generous blood donors to help its providers in saving lives.
The Red Cross regularly holds blood drives locally. Upcoming dates include Thursday, Jan. 19, in Bellows Falls; Saturday, Jan. 21, in Brattleboro; Monday, Jan. 23, in Claremont, NH; Tuesday, Jan. 24, at Brattleboro Memorial Hospital in Brattleboro, and in Keene, NH; Wednesday, Jan. 25, in Claremont, NH; Monday, Jan. 30, in Chester; Thursday, Feb. 2, in Bennington; Thursday, Feb. 7, in Brattleboro; and Saturday, Feb. 11, in Putney.
If you have not given blood through the Red Cross recently, you might be interested to know that donors often get a report later on to tell them their blood type, where their blood was sent, and sometimes what type of patient was helped. Giving blood is a wonderful gesture, and it's wonderful to have this information about the human connection your donation makes.
In just an hour or two, you can be a vital link in the chain of life made possible by giving blood. It's best to make an appointment rather than just showing up at a drive, to ensure there is space for you. To make a blood donation appointment, call 1-800­-RED CROSS (1-800­-733-2767) or visit www.redcross.org/give-blood.