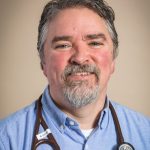 By David McCormack, Grace Cottage Family Health FNP
Here's a great deal for you: come to Grace Cottage Family Health for a medical appointment, and you may receive a "prescription" for free entry into any one of Vermont's great state parks.
The Vermont Governor's Council on Physical Fitness and Sports and the Vermont Department of Forests, Parks, and Recreation sponsor this program, dubbed the "Park Prescription Program," as a way to encourage you to get outdoors and to be more active.
Vermont has more than 50 state parks, in every corner of the state, so this "prescription pass" can help you explore a new place or visit a well-known favorite.
Here's how the program works. Medical providers who wish to participate can contact the parks department to register, and they are sent a series of numbered "prescriptions." When a patient comes in for a visit, if increased activity is deemed beneficial (it usually is), the provider inscribes one of the park passes with the patient's name and dates and signs the pass.
All of the medical providers at Grace Cottage Family Health have parks prescription passes to distribute to their patients, including our pediatrician and our two mental health providers. We have plenty of passes to go around.
The pass looks like a prescription, and it is good for day-use entry at any Vermont State Park. The Vermont Department of Forests, Parks, and Recreation and the Governor's Council on Physical Fitness and Sports have been offering this prescription pass program since 2015.
The pass is not intended as a handout. You can't just call us and ask us to send one in the mail, or ask for one at the registration desk. The passes are given out by medical providers as part of a wellness visit or other clinic appointment. This is important, because only your providers knows what type and level of exercise is right for you.
This is a great program. Outdoor activity is one of the best things you can do for your health. I make a point to get outdoors myself, and I'm excited to tell my patients about this opportunity and to share this information with Brattleboro Reformer readers.
Five state parks are located in Windham County. Fort Dummer State Park (Brattleboro), Jamaica State Park, Lowell Lake State Park (Londonderry), Sweet Pond State Park (Guilford), and Townshend State Park are all close to home for Windham County residents, and there are plenty of other options nearby. You can see the complete list and learn about the unique features of each one at www.vtstateparks.com.
Craig Whipple, Director of the Vermont State Parks says that, "The Park Prescription program is a perfect way to highlight the connection between outdoor recreation and personal health. "Spending time outdoors, connecting with nature and being active all help keep us strong in both body and spirit. And state parks offer the ideal settings for valuable outdoor time!"
Ask us about the Park Prescription Program during your next clinic visit. It's a great starting point for a discussion with your medical provider about what type of exercise is right for you.
Bio: David McCormack, Family Nurse Practitioner, joined the staff of Grace Cottage Family Health in May 2018.  McCormack earned his Associates from Vermont Technical College, his BSN from the University of Vermont, and his Master of Science at the Massachusetts College of Pharmacy and Health Sciences, with a Family Nurse Practitioner focus. He holds certifications in emergency nursing, advanced trauma nursing, and emergency pediatric nursing.