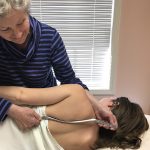 By Margaret van den Bergh, PT
Graston Technique. It's a strange-sounding name for a new physical therapy method that can help patients heal faster from soft tissue injuries like sprains, fibromyalgia, tennis elbow, golfer's elbow, back pain, carpal tunnel syndrome, tendonitis, shin splints, trigger finger, and plantar fasciitis, to name a few.
The name for this technique comes from David Graston, the man who invented this healing therapy. It's an interesting story.
David Graston is a machinist by trade, meaning that he makes parts for machines. He's also an amateur athlete. When he suffered a knee injury some years ago while water skiing and had to have surgery, he became impatient afterward with the slow pace of his recovery. In consultation with his doctor, he decided to make his own set of tools to use on himself and hopefully to speed things up.
When this proved effective, he approached the medical and research personnel at Ball Memorial Hospital and Ball State University in Muncie, Ind., to work on fully developing the technique and to refine the set of instruments. From this collaborative effort, Graston Technique® was born.
Backed by over 20 years of research, clinical studies, and successful clinical application. GT therapy is part of the curriculum for 43 advanced degree programs in physical therapy, chiropractics, and athletic training. It is used regularly by over 250 professional and amateur sports teams and by U.S. Olympic training centers. There are over 16,000 certified physical therapists, chiropractors, and athlete trainers worldwide.
Now three Grace Cottage Family Health & Hospital's physical therapy staff members are also certified to offer this treatment: Rebecca Griswold, PTA; Melissa Walker, DPT; and me.
At the center of this treatment is the use of Graston's six stainless steel tools, used for soft tissue mobilization therapy, a type of manual massage. Each tool is designed for a particular part of the body, so the site of the injury determines which tool we use. What I like is the way the tools allow me to better pinpoint the exact area where movement restriction is occurring and to get deeper in my efforts to stretch the connective tissue and muscles fibers, and to break down collagen deposits and scar tissue that cause pain and dysfunction. Graston Technique can help to speed up healing, while reducing the need for pain medications.
It's important to note that GT therapy is part of a comprehensive PT program, not a stand-alone. Each session begins with warm-up exercises, then the technique is applied, then the patient does supervised, specific stretching and strengthening exercises. Sometimes, patients need to apply ice for a short time after treatment, but this is minimal. Exercises assigned by the therapist between sessions are also important.
We are pleased to be able to offer this new service to our patients, and of course, to witness their stories of success firsthand! One of our patients, Anita Rafael, of Wardsboro, VT, had this to say about her treatment with Graston Technique:
"My first experience with the Graston Technique was excellent. The kink between my shoulders was gone after about six treatments with physical therapist Margaret Van den Bergh. Her stainless steel tools seemed to reach specific groups of nerves and muscles, and she took the time to explain everything she was doing; it didn't hurt at all! She has a very professional approach, and the Graston Technique is a great addition to Grace Cottage's rehabilitation services."
If you would like to know more about the Graston Technique, please feel free to call me at 802-365-3637.
Bio: Margaret van den Bergh earned her B.S. in Physical Therapy from the University of Vermont. She has over 40 years' experience, working with inpatients and outpatients, and in private practice. She joined Grace Cottage in 2017.