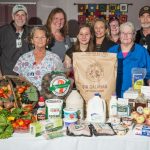 By Denise Choleva, CDM-CFPP, Grace Cottage Dietary Director
as originally appeared in the Brattleboro Reformer's Graceful Health series, November 4, 2016
You hear the phrase a lot these days: "Food is medicine," and it makes a lot of sense. We know there are plenty of foods that can make us sick because they have too much sugar, artificial ingredients, or fat. So the opposite has to be true too, that food can help make us well.
Healthy food in a healthcare setting makes good sense, for patients as well as for employees and community visitors. That's why I signed the "Healthy Food in Healthcare" pledge in 2012, and that's why I've been so committed to using the freshest, locally produced food here ever since.
Did you know that the Vermont legislature has made a commitment to local foods? In 2009, a law was passed creating the "Farm to Plate Investment Program." This was in response to a report that showed how dependent Vermont was on food imports (food from outside of Vermont or beyond 30 miles of the border). The report said that Vermont was producing 5% of its food, with imports amounting to 95%.
Among other things, the "Farm to Plate" program set a goal to increase reliance on local foods to 10% by 2020. Last year, at the midpoint, the statewide average was up to 6.9%.
I don't like to brag, but I'm proud to say that over the last four years, Grace Cottage's Dietary Department has increased its reliance on locally sourced foods to over 33%! And we're still working to raise that number. Grace Cottage is not a large hospital, but we are "going local" in a big way.
As my mentor Annie Harlow, Farm & Food Marketing Consultant for the statewide effort, told me, "A commitment this big is hard for a small hospital. You don't have a big team to help you do the research and make the connections, but you do have a big heart, and you're working hard to make a difference. You're doing a fabulous job!" We're proud of what we've been able to do in such a short time.
Annie helps to oversee our statewide Healthy Food in Healthcare workgroup, where I can network with other hospital food service directors to get ideas and support. Annie also helps us track our numbers so we can see our progress, by quarter and year-over-year, and she helps us find opportunities to increase local and healthy options.
Grace Cottage's efforts to increase access to locally-produced food helps us strengthen the economic health of Vermont's food and agricultural system, and that makes me feel good.
We're also helping the environment by reducing the amount of fuel needed to transport food long distances.
But more importantly, local foods are healthier for our patients, our employees, and the many community members who stop in for lunch in the Grace Cottage cafeteria. Because it's local, it's fresher. And many Vermont farmers grow their food organically, so that's a big plus.
It's truly amazing to see how the Vermont food industry is growing, through the encouragement of the Vermont Farm to Plate movement. The 2015 Farm to Plate report says that non-farm jobs for those working in the food system are up 9.7% since this initiative began, compared to a 3.2% increase in employment overall. The way I can tell this is true is that I have so many more options for local foods now than I did when I started working at Grace Cottage in 1998.
I recently made a list of the local companies where we buy our food products. We now have connections with over 20 different local farms and producers. Some items come to us directly from the farm. For example, Fire Belly Farm in Brookline calls me every week to tell me what he has that's fresh. I place my order, and it arrives the next day.
Food Connect's "Windham Farm & Food" network helps us connect to local producers. So do some of our other suppliers. True North Granola supplies our granola and porridge, and our yogurt comes from Commonwealth Dairy; both of these are made in nearby Brattleboro. We serve antibiotic and hormone-free chicken, pork, and ground beef; nitrate-free hot dogs; fresh and sustainably harvested seafood; and fair trade coffee.
All of this good food is therapeutic for our patients. It's also helping our employees and visitors. Did you know that the Grace Cottage cafeteria is open to the public? At $8 for a bountiful buffet with salad bar, it's a great bargain! Not only that, it's good for you. So stop by any weekday for lunch, and you'll get a healthy taste of our community!
 Bio:
Denise Choleva earned her diploma in culinary arts from the Franklin County (MA) Technical School in 1981, but her training began much earlier, while helping her grandmother with her catering business. She earned her Certified Dietary Manager-Certified Food Protection Professional credential in 2001 and has served as president of the Vermont Association of Nutrition and Foodservice Professionals since 2010.