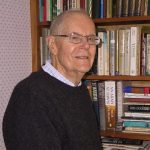 97-year-old West Townshend resident Dick Jackson is very grateful that Norman Bills is a mailman who cares about his postal patrons; it's why Dick is still here. And Grace Cottage played a part.
Norm doesn't usually deliver the mail on Saturdays, but on November 7th, he was filling in for someone else, and he noticed that Dick hadn't picked up his mail during the past two days. He knew this was out of the ordinary, so he mentioned it to one of Dick's neighbors, who hadn't seen him either. Dick is usually highly visible – he's well known for walking at least a mile a day up and down Windham Hill Road.
"I knew something wasn't right," said Norm, "so I went back to Dick's house. The front door was unlocked so I went in and hollered, but there was no answer. I looked around a bit inside and out, and then decided to call 911. State trooper Jeff Hudon came and looked in the house and the barn, and then around the property. It's a good thing he didn't give up, because he found Dick at the bottom of a steep 10-15' embankment that he was unable to climb back up on his own. He'd been there since Thursday afternoon, when he'd fallen as he was dumping his compost."
Amazingly, even after two nights on the ground, Dick was still alive, although unconscious. "I've been told that my body's core temperature was 80 degrees when I was brought by ambulance to Grace Cottage," said Dick. "I was helicoptered to Dartmouth Hitchcock and then, about a week later, I came back to Grace Cottage where I spent the next seven weeks recovering. The care at Grace Cottage was phenomenal, top-notch in every way, and I gradually got my strength back."
Dick thinks that, in addition to the fact that Norm was concerned enough to investigate and then call the police, his life was also saved by unseasonably warm temperatures (high 40's at night, 60's during the day) and the fact that he was dressed in wool socks, shirt, and pants.
Many of Dick's friends and neighbors made donations to Grace Cottage in his honor; Dick is now a resident at Valley Cares and you can be certain that he will soon be walking up and down Route 35 in Townshend.
As for Norm, he retired from the postal service after 30 years, as planned, on December 31st. His wife, Melissa; his daughter, Melinda; and his sister, Alison Bills Brown, all work at Grace Cottage. For now, Norm is keeping busy helping his father, Alan Bills, at the family's sawmill, Bill's Lumber, in Wardsboro.
"I always say that people who have Charitable Annuities at Grace Cottage tend to live a very long time," said Andrea Seaton, Director of Development. "Dick has two annuities with us, so he'll live forever!"