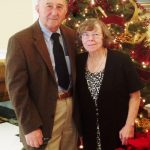 How a $1 parking donation led to a $300,000 Charitable Annuity
On Columbus Day weekend in 2013, Larry & Margaret DeMatteo of Milltown, NJ, decided to take a Sunday drive to see the foliage near their second home in Jacksonville, VT. They passed the Newfane Flea Market on Route 30 and pulled in to see what it was all about.
"There was a guy there wearing a yellow shirt that was printed with, 'I cheerfully accept $1 parking donations for Grace Cottage Hospital'," Larry recalled. "I said, 'That must be one heck of a hospital for you to be out here collecting a buck for each car every weekend!' He confirmed that I was correct, and that's how Margaret and I first learned about Grace Cottage. I've been making donations every year, ever since, and this year, in honor of Margaret, I decided to open a Charitable Annuity."
Larry and Margaret purchased their second home in Vermont shortly after they were married, 50 years ago. "We'd come to Vermont to ski, but it was raining," said Larry. "So instead of skiing, we found this house and bought it right away. We had so many wonderful times there until Margaret's death this past June.
"I wanted to support Grace Cottage because I know it's a wonderful hospital that's very needed and appreciated by its community," he said. "I hope that my support will inspire others to do the same."
A plaque in commemoration of this gift will be dedicated in the Grace Cottage Emergency Department during the spring of 2021.