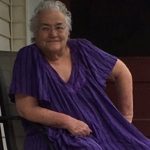 Mary Moberly of Townshend let Grace Cottage know many years ago that her estate planning included the small hospital that she cherished so much. Mary died peacefully in Grace Cottage's Hospice Suite on November 1, 2020, with her dog, Bella, and two of her dearest friends by her side; it was the same room where Mary had been with her husband, Verne, when he died in palliative care here on March, 2014.
Mary grew up in Norwich, VT, where her father was the longtime dean of Norwich University. She graduated from Tufts University in Boston and received her nursing degree from Columbia University in NY, NY. She worked at Fletcher Allen Medical Center in Burlington, VT, and then became a psychiatric nurse at McLean Hospital in Belmont, MA, which is where she and Verne, both supervisors at the time, met. The couple moved to Vermont and worked at the Brattleboro Retreat for many years.
After Verne's death, Mary moved from her home on Lawrence Drive in Windham (adjacent to the Windham Hill Inn), to a house across from the library in what she called "The Big City" – downtown Townshend.
She is greatly missed by so many.
Grace Cottage has been notified that the hospital is a named beneficiary in two of Mary's life insurance policies, for which we are very grateful. As with all bequests, these donations will be held in perpetuity in Grace Cottage's Endowment Fund, which has now grown to almost $8,000,000, thanks to generous Estate gifts such as Mary's.