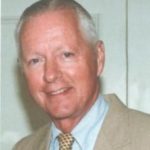 Robert "Bob" Carroll of West Hartford, CT, and Chatman, MA, passed away on February 12, 2020, at the age of 95.  Bob had notified Grace Cottage in 1994 that he had established a Charitable Remainder Unitrust in 1988, with the hospital as one of the remaindermen, and we are so grateful for his generosity.
A 1948 graduate of Yale University following his military service in the Philippines, China, and Korea in the Naval Amphibious Forces (he became Lieutenant Commanding Officer of the USS LCI 689), Bob helped to develop and market the product that became Locktite sealant, and traveled throughout Europe with Locktite.
Bob and his wife, Anne, who were married for 68 years before her death in 2017, spent a great deal of time with their two children in Vermont, at the log cabin that Bob built just off Route 30 in Townshend.