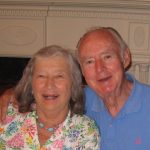 Elizabeth "Betsey" Herrmann of Sleepy Hollow, NY, left a specific bequest to Grace Cottage in her will.
Betsey, who died in August, 2019, was pre-deceased in 2012 by her husband, Lacy, who founded the Aquila Group of Funds and was as active with his alma mater, Brown University, as Betsey was with her college, Wheaton.
The couple and their now grown children, Diana and Conrad, have owned a place at Stratton since the early 1960's and enjoy skiing in their free time, always appreciating the fact that Grace Cottage is nearby when, or if, they ever need our services.