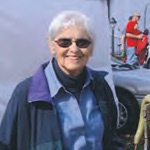 Ernie Friedli of Windham made a very generous donation for a new entrance at Grace Cottage in thanks for the wonderful care that his beloved wife, Sheila, received from all the staff and especially from Dr. Timothy Shafer, during her life. "Since the day that Sheila died at Grace Cottage in December, 2014, I have had the feeling that her spirit is still here, and only here," said Ernie.
"We met when she was 11 and we were married for more than 62 years. She was my soulmate and I wanted to do something special to memorialize her.
Sheila was such a warm and welcoming person that when I heard that the hospital needed a new entrance, it seemed to be a perfect fit."
When Ernie told his love story to John Brunelle of Brunelle & Son Construction, John decided to revise the design of the new entrance so that it would curve and be more feminine. Brunelle donated the additional cost incurred.
"This entrance makes a big difference for patient care," said Roger Allbee, CEO. "Anyone coming to the hospital for an outpatient procedure, plus vendors and those visiting patients, no longer enters straight through the Emergency Department."