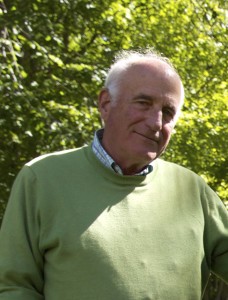 Robert B. Crawford of Grafton established the Barbara B. Crawford Endowment Fund at Grace Cottage Hospital in thanks for the care that Barbara received at Grace Cottage during the last few years of her life.
"The staff, nurses and everyone else were incredibly caring and supportive during this difficult time.  It is hard to imagine not establishing an Endowment Fund, given the wonderful way Barbara was treated," said Bob Crawford.
Born in Brooklyn, New York, Barbara was a buyer at Henri Bendel when she met Bob on Fire Island, and the pair were married in 1966. They lived in Brooklyn Heights and when Bob's employer, Chubb Insurance, moved Bob to San Francisco, Barbara became a buyer for Macy's in San Francisco until their daughter, Jennifer, was born. Chubb moved the Crawfords to Portland, Oregon in 1970, where their son, Perry, was born. Two years later, Minneapolis was their port of call for Chubb, where Bob and Barbara purchased their first home. However, when Chubb called Bob to a job at corporate headquarters in Short Hills, New Jersey, they eagerly accepted.
"If it sounds like we were corporate vagabonds, that's an apt description," said Bob. "For Barbara, each move was like a new start, a new city with new friends and challenges. After these early moves, I finally figured out how to be promoted without uprooting Barbara and the kids. From 1976 to 1992, we lived only in Michigan (3 ½ years) and Pittsburgh (12 years), though my responsibilities changed a number of times."
When Barbara was diagnosed with diabetes in 1978, she treated her condition with diet, blood-sugar monitoring, and insulin dosages. In 1996, Barbara began experiencing renal failure and she received a transplant. When Bob retired in 1998, the couple purchased a home in Grafton (Barbara's idea), and moved to Vermont year-round in 1999. Until her death in 2006, she was very active in the Grafton community.
"Barbara traveled so far to get to Vermont and, because of her diabetes, her stay here was way too short," said Bob. "But everyone who knew her remembers her, despite her medical issues and complications, as a warm, wonderful, funny, strong, and smiling person. I know that she would be very pleased that the Barbara B. Crawford Endowment Fund at Grace Cottage has been established to help ensure that, long into the future, others can enjoy the kind of care that she so appreciated at Grace Cottage Hospital."
Bob Crawford
Grafton, VT