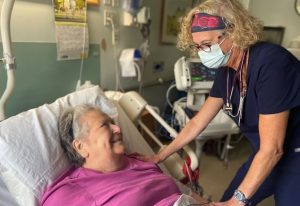 Grace Cottage hospital has 19 inpatient beds to serve those in our community who need Acute Care for illnesses such as pneumonia, congestive heart failure or Chronic Obstructive Pulmonary Disease (COPD) exacerbation.
Patients are cared for by an in-house Hospitalist who leads an inpatient interdisciplinary team consisting of Pharmacists, Physical and Occupational Therapists, Registered Dieticians, Registered Nurses, Speech Language Pathologists, and Social Workers.
As you prepare for discharge, we will assist you with arranging for follow-up care from your Primary Care Provider.
---
Grace Cottage Hospitalists