BEST OF BRATTLEBORO – AGAIN!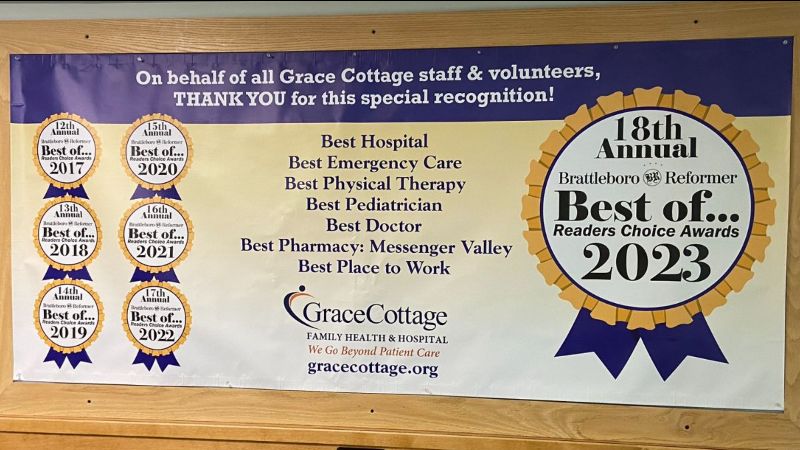 As announced in the Brattleboro Reformer on August 5, Grace Cottage won the Best of Brattleboro 2023 in many different categories (see banner below). Dr. Tim Shafer and Dr. Moss Linder were Best Doctors and Cynthia Howes and Dr. Elizabeth Linder won for Best Pediatricians (currently Dr. Elizabeth Linder is working in the same-day clinic at Grace Cottage, seeing all ages, and not practicing pediatrics). We are pleased and honored to have again won this recognition, and we thank our dedicated, hard-working employees and our many satisfied patients and members of the community who voted for Grace Cottage in all of these categories.
NEW CLINIC UPDATE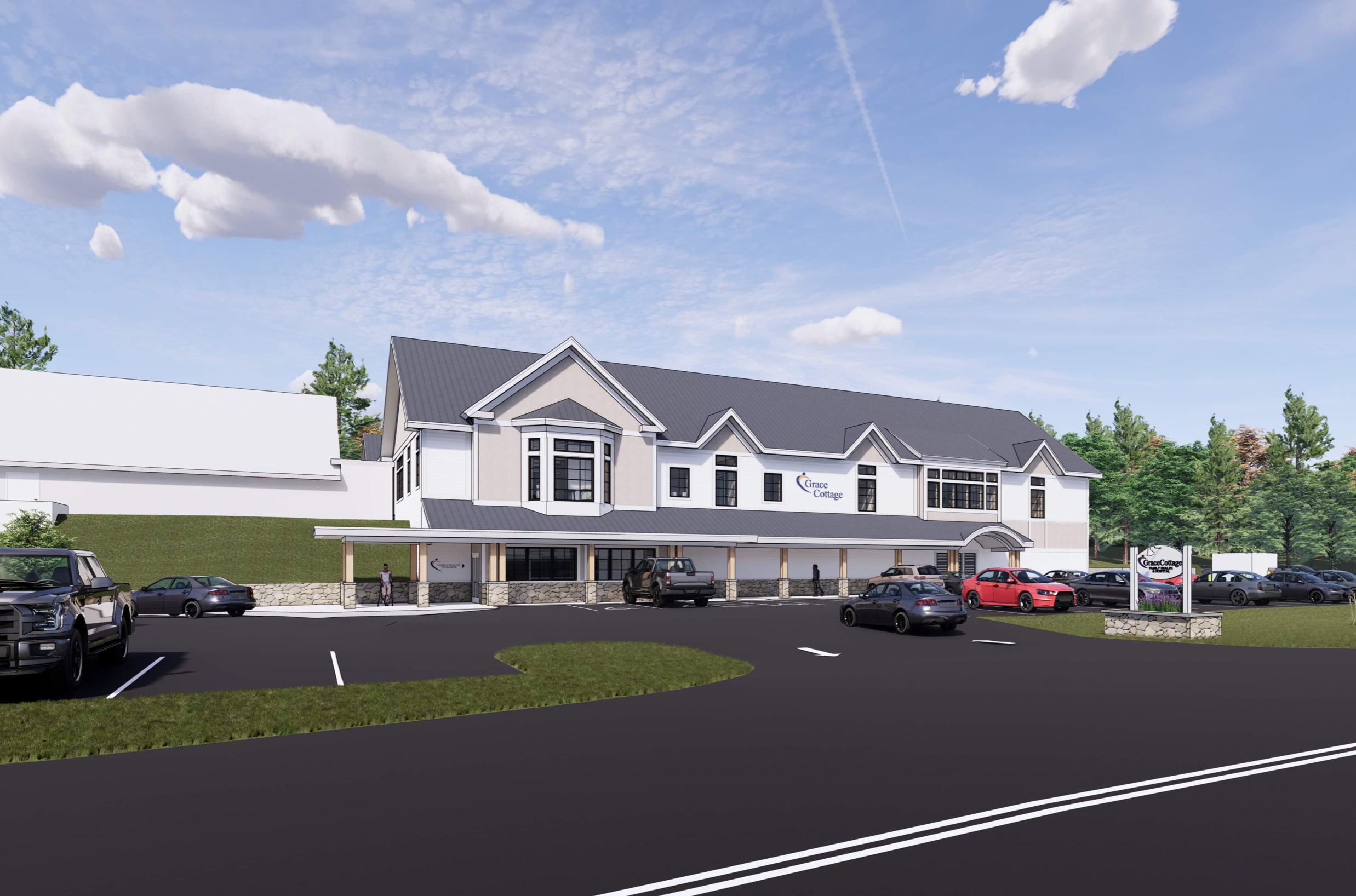 Please join us for a Community Forum about our new clinic project on Wednesday, August 23 at 5 p.m. at the Newbrook Fire House, located at 698 VT Route 30 in Newfane. We will be showing a 4-minute video about the need for a new primary care clinic, along with a virtual walk-through of the proposed building (architectural rendering of the exterior pictured at left). There will be time allotted for a Q&A session, and we hope you will attend!
We have submitted responses to a second round of questions from the Green Mountain Care Board (the regulatory body that oversees hospitals in Vermont) and they are now in their deliberation phase regarding a Certificate of Need for the project. After this has been received, we will embark upon the Act 250 Environmental permitting process, as required in Vermont.
EMERGENCY ROOM
Approximately 50 people attended the Emergency Department Ribbon-Cutting Ceremony held on July 26. Members of the public and employees who were given tours through the addition were very impressed with the new
design and flow. Many people have commented that it blends in as if it's always been there; we're very pleased with the way it turned out, and with the work that so many of our employees did to ensure that it would improve efficiency, privacy, safety, and comfort for our patients and staff. The new addition officially opened on Monday, July 31, and renovations are currently underway to update the hospital nurses' station. Thank you for your patience as we grow and improve!
Ribbon Cutting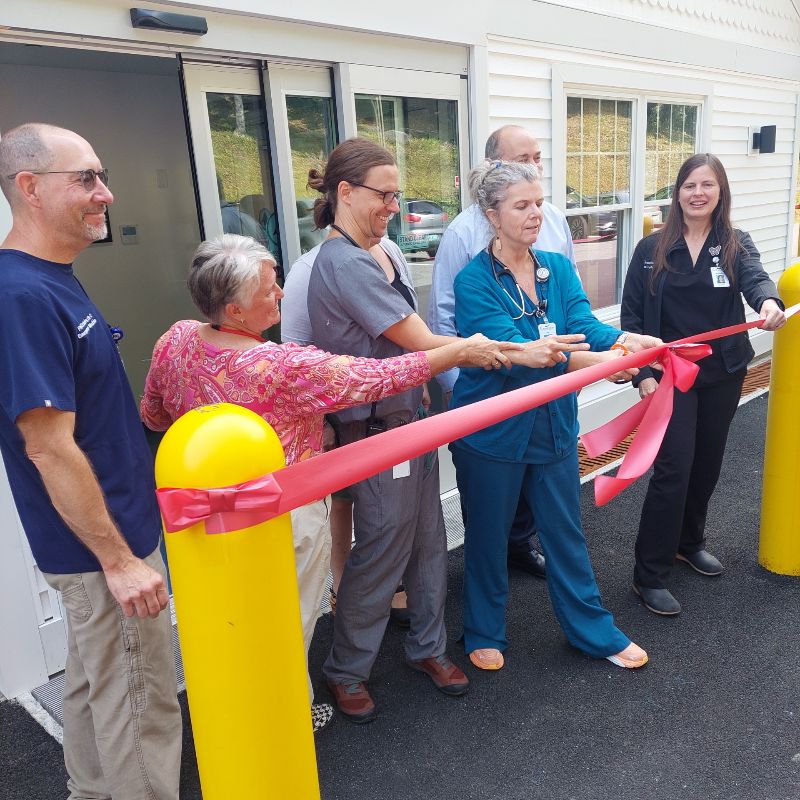 Emergency Department ribbon-cutters (l. to r.): ER Provider Phil Schafer; Chief Nursing Officer Lisa Eaton; ER Provider Ben Woodard; RN Lisa May; President & CEO Doug DiVello; ER Provider and Hospitalist Dr. Jennifer Zweig. The new addition, which measures 17' x 42', greatly expands the size of Grace Cottage's Emergency Department, and improves patient flow, security, and comfort.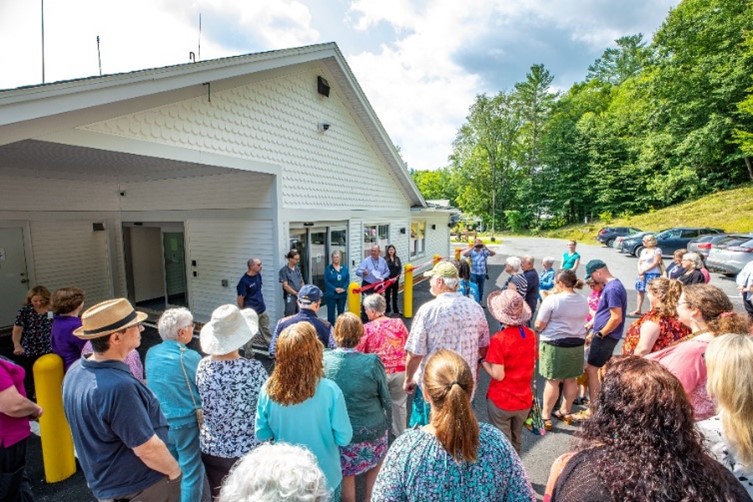 GRACE COTTAGE HOSPITAL FAIR DAY
What a magnificent 73rd Annual Hospital Fair Day it was, in so very many ways! Weather-wise, August 5th was one of the top five days of the summer, maybe even the best – with a high of 80 degrees, a gentle breeze, and sunny skies. The Townshend Common was crowded with smiling people of all ages. I want to thank the more than 200 volunteers who make Fair Day the success that it is. It always amazes me how many people come from far and wide to volunteer in booths or other activities that make up Fair Day, or to enjoy the event as Fairgoers.
People were having such a good time, and they stayed to support the hospital, to find bargains, to listen to the entertainment, to enjoy food from various booths, and to watch their children/grandchildren on the pony rides. Early indications are that 2023 was our second-highest grossing Fair Day in history, with a gross revenue of over $80,000, all thanks to fairgoers, volunteers, and those who donated many items.
Pictured above: Dr. Bob Backus rides the Barbie-mobile through the auction tent; Plant Booth Ladies Pat Howell, Priscilla Cotton, Cathy DiVello; Pictured below: Kit Martin and Auntie Depressant; the Farrell Family of Big Picture Farm with clown Stephen Stearns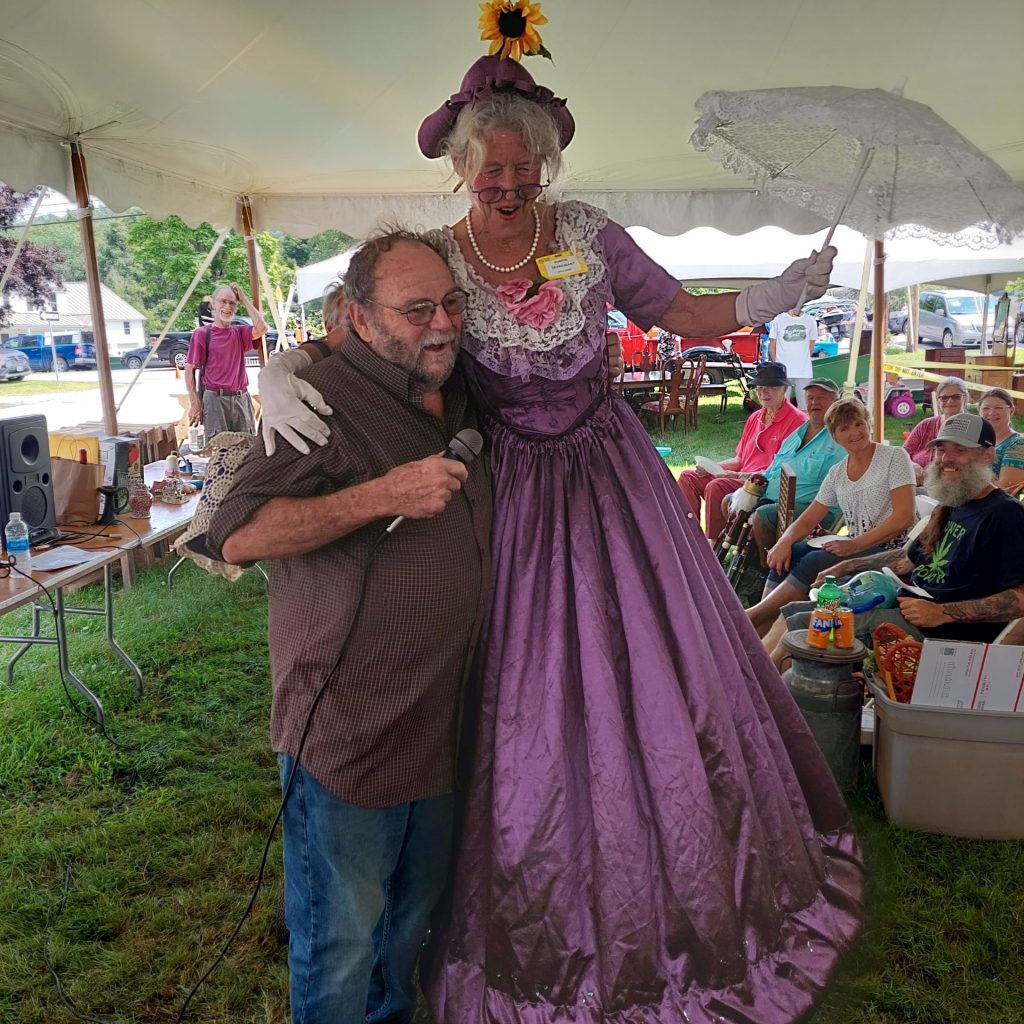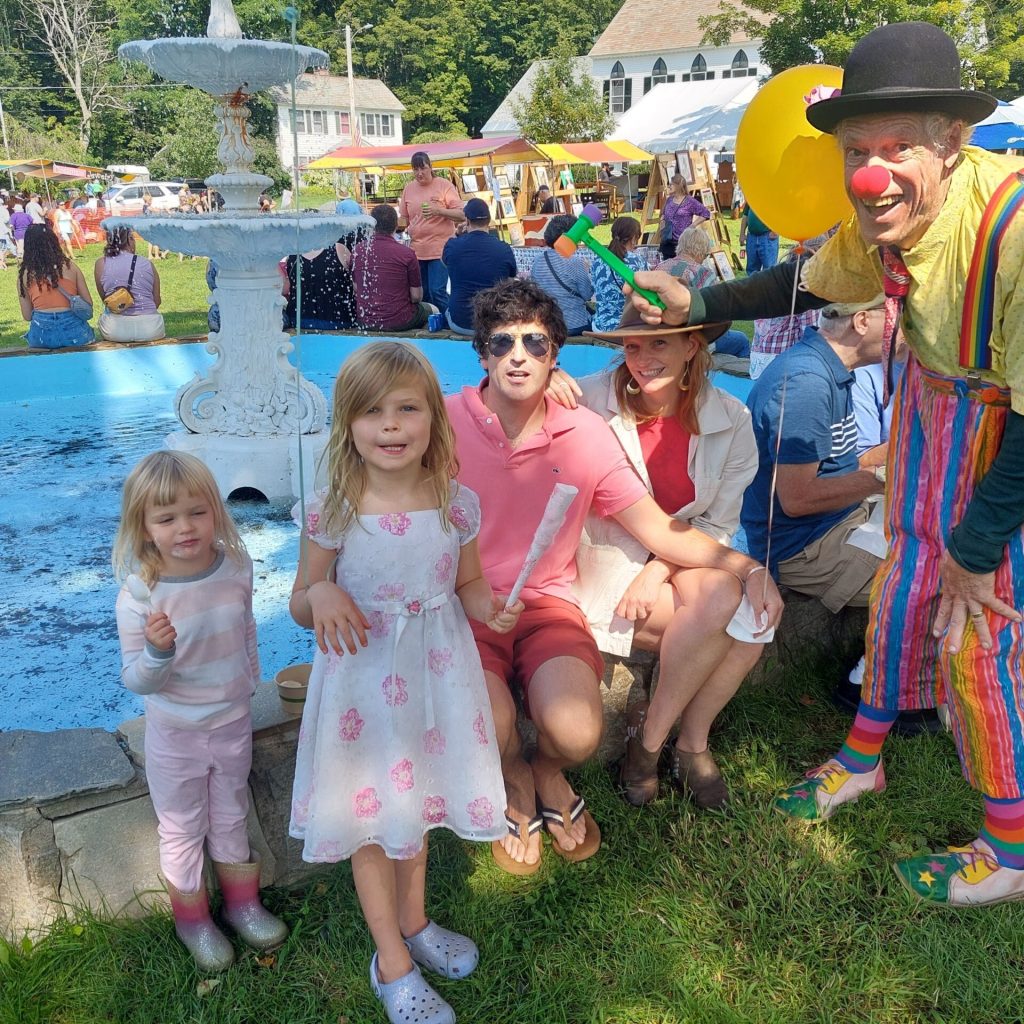 Doug DiVello, President & CEO
& Fair Day Food Booth Fry Cook!