NEW CLINIC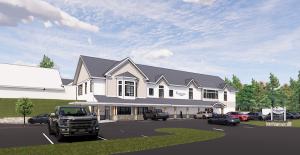 We held our first Community Forum last Wednesday evening to inform the public about our proposed new clinic project, and an informative dialogue was held at the Townshend Town Hall, where attendees were presented with a virtual walk-through of the proposed new clinic.  Our next Community Forum, also open to all members of the community, will be held on Thursday, June 15, at 4 p.m. at the Brick Meeting House in Grafton, VT. Please plan to join us if your schedule permits.
The number of patients choosing to receive personal and professional primary care at Grace Cottage has been growing exponentially, (over 31,000 patient visits in our Rural Health Clinic annually, up from 20,000 visits just five years ago). With 13 primary care and mental health providers at Grace Cottage Family Health, and more than 50 support staff in the clinic, including schedulers, receptionists, and nurses, the two houses in which the clinic is located have been well-utilized over the years – yet were never intended for this. Although the houses, built in the 1850s, are quaint and charming, it's clear that they're insufficient for our current use. Patients and providers navigate a maze of meandering hallways; heating and cooling are inefficient; space is at a premium.
Thanks to a $5 million pledge from generous donors, we have spent the last 18 months on systematic planning for a new clinic, to be attached to the hospital and located just north of the existing clinic on Route 35. Construction of this building, projected to cost $20 million, will ensure that Grace Cottage Family Health can serve patients well into the future.
We have applied for a Certificate of Need (CON) from the Green Mountain Care Board (Vermont's regulatory body for hospitals), and we are conducting the work needed to apply for an Act 250 permit (Vermont's land use and development law, administered by the National Resources Board and the District Environmental Commission).  We will keep our patients and our community fully informed as we continue this process.
2023 Impact Awards

For the second year in a row, Grace Cottage has been chosen as an IMPACT Award Finalist for Vermont by the Ruderman Family Foundation and the Red Sox Foundation.
The contest recognizes organizations for their efforts to improve mental health in their communities. In an email congratulating Grace Cottage for being chosen as a finalist, the sponsoring organizations wrote, "Your nomination demonstrated a deep impact in both raising awareness and improving the outcomes in your community. We would like to thank you for the incredible work that you are doing!"
The IMPACT Awards (Inspiring More Philanthropy Across Charities Together) provide Red Sox fans in the six New England states with the chance to nominate and vote for their favorite local non-profit organization. Five finalists have been chosen from each state for their opportunity to win a grant from the Red Sox Foundation.
Supporters can vote daily, between today and May 31 here. And you can vote each day from multiple e-mail addresses! The top three non-profits each receive a grant: $10,000 for first place, $3,000 for second place and $2,000 for third place. Grace Cottage won a second-place grant in 2022 and a third-place grant in 2015.
Please feel free to pass this e-mail along to friends, family members, and neighbors, and let them know that they can vote once a day from multiple e-mail addresses during the rest of the month of May!
EMERGENCY DEPARTMENT UPDATE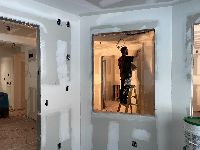 This project is being wrapped up, and we'll open the new addition and schedule a ribbon-cutting as soon as the two sets of glass doors arrive and are installed. We're all very excited about being near completion on this long-anticipated project, the 17' x 42' expansion of our extremely busy Emergency Department.
SPRING INTO HEALTH 5K
What a great event we had this past Saturday! Dr. Moss Linder penned the following message about the event, thanking participants, volunteers, and sponsors:
"Dear Friends and Community,
Grace Cottage Family Health and Hospital hosted its 14th annual Spring into Health 5K Walk and Run on Saturday, May 13, 2023. We were blessed with spectacular weather and had an even better event. We welcomed 75 participants: runners, walkers, and even a participant on rollerblades with a dog! The Rescue Inc. bicycle team helped keep the participants safe during the event and we thank them.
Thank you also to our generous sponsors including M&T Bank, Linda Bastian, Big Picture Farm, Blake Hill Preserves, Cota & Cota, Riverbend Farm Market, Smith Family Maple Syrup, and WEEI 93.7 Sports Radio.
Proceeds from this year's 5K, which totaled over $4,500, have been put toward the Patient Care Fund at Grace Cottage. Thank you to our many volunteers, maintenance department, the Grace Cottage Foundation team, for all their work putting this event together, once again, and to Ben Wright, Steve Kapral, and Phil Schafer for coordinating the event.
Congratulations to Al Claussen, who was the fastest runner at 19:27, and Kelsey Taddei, who was the fastest female runner at 22:24. Special recognition goes to Helen Eddy, our "most experienced" participant, as well. And a shout out to the kids, particularly the Girls on the Run participants who were using this event as practice for their big event coming up soon.  You all were awesome, and we hope you'll keep up the great work!
Finally, for all who participated, thank you again for coming and for supporting Grace Cottage. Mark your calendar for next year's event: Saturday, May 11, 2024. Hope to see you there!!"
GRACE COTTAGE HOSPITAL FAIR DAY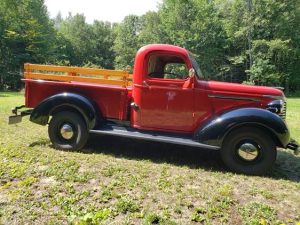 Thanks to generous donors in Newfane, Grace Cottage will be auctioning off a 1940 ½ ton, 6-cylinder (3 gears) Chevy pickup truck at Hospital Fair Day. The donors drove it up to Vermont when they purchased it 13 years ago; the current engine has 5,000 miles on it. As with Ron Albee's 1941 Chevy pickup truck that we auctioned at Fair Day last year, there will be a minimum bid of $30,000, and the truck will be auctioned at 2:00 p.m. on Saturday, August 5th on the Townshend Common. "This vehicle has provided much pleasure during its time with us, and we wish for her usefulness to continue through this gift to benefit Grace Cottage," said donors Mike & Jody McAssey.
Immediately after the Chevy truck is auctioned off, we'll be auctioning a magnificent quilt made and donated by Deb Record of Newfane. Made from Fair Day t-shirts from 1999-2022, this queen-size quilt is a trip down memory lane!
If you have items to donate for Hospital Fair Day, including books, jewelry, art, a car, a boat, antiques, toys, or household items, or if you'd be interested in volunteering an hour, a day, or more (before, during, and the day after  Fair Day), please contact Fair Day Chairperson Eileen Fahey, at 802-365-4030 or thequeenoftownshend@gmail.com.
Doug DiVello, President & CEO
Grace Cottage Family Health & Hospital