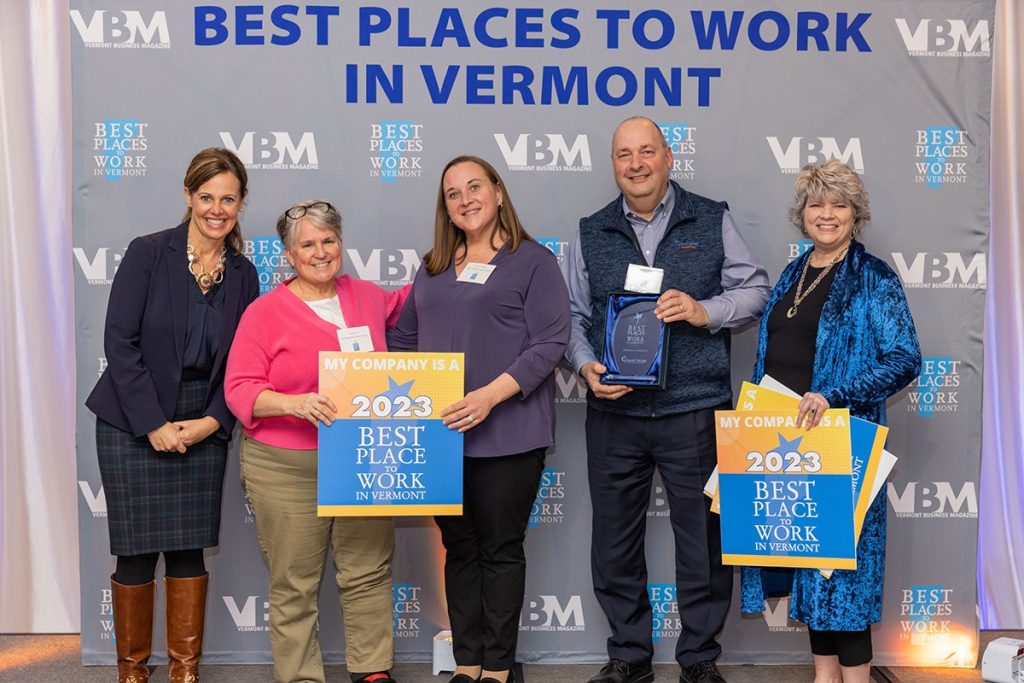 Best Places To Work In Vermont
As announced in last month's issue, Grace Cottage was the only hospital to have been named a "Best Place to Work in Vermont" by VermontBiz in 2023.
On Wednesday, March 29, I traveled to Burlington to accept the award, along with our Senior Human Resources Director, Jennifer Newman (center) and Chief Nursing Office, Lisa Eaton (second from left), flanked by Lindsay Kurrle, Secretary of the Vermont Agency of Commerce (far left) and Community Development and Susan Springer, Vice President, Custom Projects, Workforce Research Group (far right).
New Clinic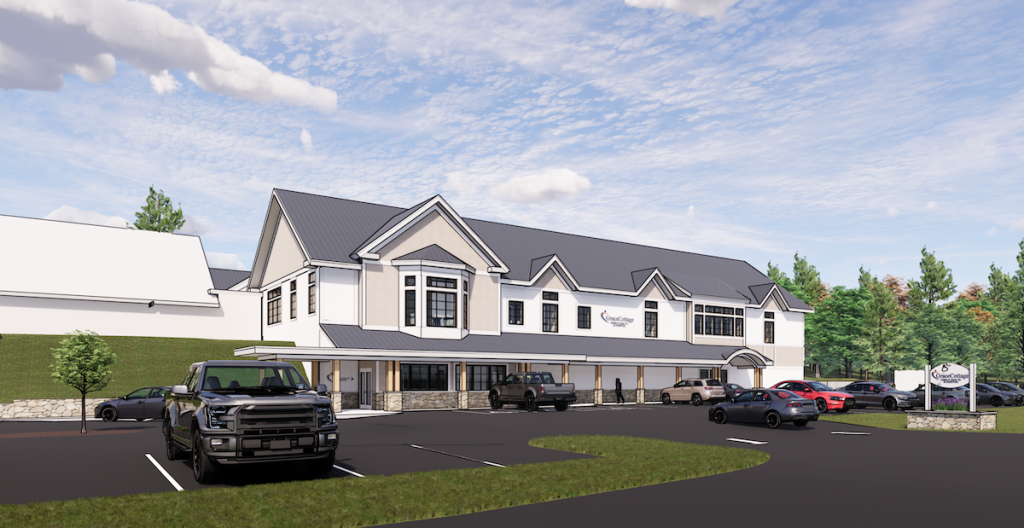 On Monday, April 10, we submitted our application to Vermont's Green Mountain Care Board (GMCB) for a Certificate of Need to build a new Family Health clinic. Because our current clinic is bursting at the seams (13 medical providers and 50 other employees provide over 31,000 patient visits per year in two connected houses built in the 1850's), we have requested an expedited review of the application by the GMCB. The application is available for public viewing on the GMCB website; click here if you'd like to read the 46-page narrative and click here for the 156-page appendix; if you read through all of this, you'll be up to date on everything there is to know about the project to date!
We will be hosting several Community Forums about the new clinic this spring and summer. The first Community Forum will be held at the Townshend Town Hall on Wednesday, May 10 from 5-6:30 p.m. We'll be sharing interior and exterior plans, and there will be plenty of time for questions and answers. No RSVP is necessary; the Community Forum is open to anyone and everyone, no matter where you reside. We hope to see you there!
Masking Update

Effective yesterday, Grace Cottage Family Health & Hospital has adopted new symptom-based masking guidelines. This change is in response to consistently low COVID-19 hospitalization and death rates in our region, related to high vaccination rates, public immunity, and effective treatments. Masking will be optional for asymptomatic people in all of our facilities with the following exceptions: Staff should wear a mask and other appropriate personal protection equipment when caring for patients with known COVID-19 or symptoms that suggest COVID-19; staff should mask if a patient, caregiver, or patient family member requests it; staff should mask when caring for patients with compromised immunity. Masking is still required for all employees, patients, and visitors with COVID-19 or other respiratory infection symptoms, or for those who have had a positive COVID-19 test within the past ten days.
Emergency Department Update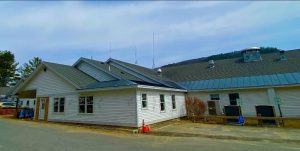 To celebrate the anticipated completion of the project, we'll be scheduling a ribbon-cutting ceremony this summer, in order to thank all of you who helped to make this 17' x 42' Emergency Department expansion project possible. $662,297 was raised, thanks to 130 individual donors, organizations, clubs, foundations, and event participants (2021 and 2022 Fair Day, 2021 and 2022 Giving Tuesday, 2022 Cabin Fever Auction, and 2022 Tee It Up for Health). Computer and electrical wiring and plumbing fixtures are being installed now, and I'm very pleased to report that the project has stayed on track and on budget, so far!
Spring Into Health 5K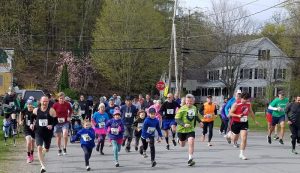 Grace Cottage's 14th Annual Spring into Health 5K will take place at 8:30 a.m. on Saturday, May 13. We hope you'll join us to run, walk, saunter, or stroll (wheelchairs and strollers welcome) along Route 35 in Townshend. Click here to register; $20 for adults, free for children 17 and under. The event is sponsored by M&T Bank, along with Blake Hill Preserves and Cota & Cota.
Tee It Up For Health
The 14th Annual Tee It Up For Health will be held at the beautiful Haystack Golf Club in Wilmington, VT on Saturday, June 10, with a noon shotgun start. We have room for additional teams at this very popular event, so if you're a golfer, please join us (golfers of all ages and abilities are welcome; this is not a handicapped event!) $150 per golfer or $600 per team includes greens fees, cart, box lunch, dinner, golf balls, some contests, and a portable Grace Cottage first-aid kit! Register to play by clicking here. All proceeds from the tournament go to Grace Cottage's Patient Care Fund.
We'd like to thank our sponsors to date:
EVENT SPONSORS: Haystack Golf Club; The Richards Group
PLATINUM SPONSORS: COVERYS; Elizabeth Walker
HOLE-IN-ONE SPONSOR: Brattleboro Subaru
GOLD SPONSOR: M&T Bank
SILVER SPONSORS: 802 Credit Union; Andy & Linda Barber; Brattleboro Memorial Hospital; Brook Field Service; Costello Valente & Gentry; Lawrence & Lober Electric; West River Family Dental
HOLE SPONSORS: Allard Lumber; Brattleboro Savings & Loan; Brunelle Construction; Chroma Technology; Community Bank; Edward Jones; Howard Printing; J. Evans Construction; Multiview; Primmer Piper Eggleston & Cramer; Royal Group; Ski Country Legal; Southern Vermont Podiatry; David & April Sprague and Family; WW Building Supply
BRONZE SPONSORS: Baker, Newman, Noyes; Lawton Floor Design
FLAG SPONSORS: Deerfield Valley News, Doug & Cathy DiVello, Equipe Sport; Five Maples; WB Management in memory of Wally & Eleanor Lowe and Effie Chamberlin.
If you'd be interested in adding your company or individual name to this sponsor list, please contact Grace Cottage Foundation at 802-365-9109 or info@gracecottage.org. Thank you for supporting our small, independent rural hospital in this way, and in all ways!
Grace Cottage Hospital Fair Day
Now that spring has finally spung, even here in the mountains of Vermont, our thoughts are turning to our biggest summer event, Hospital Fair Day on Saturday, August 5th. As you know, it takes a village to put on this magnificent community event. Thanks to our highly organized and extremely
energetic Fair Day Chairperson, Eileen Fahey, planning is well underway! If you have items to donate, including books, jewelry, art, a car, a boat, antiques, toys, or household items, or if you'd be interested in volunteering an hour, a day, or more (before, during, and the day after  Fair Day), please contact Eileen at 802-365-4030 or thequeenoftownshend@gmail.com
---
I hope that you've been enjoying this warm spring weather we've been experiencing in Vermont (finally!). It's certainly uplifting to see the daffodils and crocuses blooming so quickly after the snow-cover has melted!
Doug DiVello, President & CEO
Grace Cottage Family Health & Hospital