June 14, 2022
Dear Members of the Community,

We were given the exciting news last week that Grace Cottage Family Health & Hospital was awarded second place in the state of Vermont in the Boston Red Sox Impact Awards. The $3,000 award is in recognition of Grace Cottage's hard work to raise awareness and improve mental health outcomes in our community. Winners were chosen by the Boston Red Sox Foundation and the Ruderman Family Foundation, based on number of votes received. Thank you so much to those of you who loyally voted, whether it was just once, or day after day on multiple devices. In the award announcement, Matt McCarthy of the Red Sox Foundation congratulated Grace Cottage, saying "The work you all undertake on a daily basis is incredible." We will use the award towards mental health services in our primary care clinic, Suboxone Clinic, and Emergency Department.
---
Warlé: A Celebration and Remembrance of Warren Kronemeyer and Leon Ingall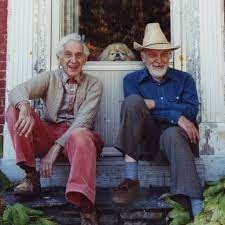 On Tuesday, June 28, Grace Cottage Family Health & Hospital, in association with Valley Cares, will mark the last week of LGBTQ+ Pride Month with a special presentation by Andrew Ingall and members of the Townshend Community, honoring the legacy of Warren Kronemeyer & Leon Ingall.
In 2004, Warren Kronemeyer generously donated the home and 9.85 acres on Route 35 in Townshend that he had owned with his lifetime partner, Leon Ingall, to Grace Cottage (the couple operated their business, Warlé Antiques, in their beautiful 1810 Federal-style red brick home). In 2005, Grace Cottage donated the house and property to Valley Cares for their assisted- and independent living project which, since it opened in 2007, has been providing excellent care and housing for seniors in our community.
Please join us for this presentation, in the form of remembrances, stories, and artifacts shared by those in the community who knew and loved Warren and Leon. Due to space constraints, this will be a virtual presentation, open to all via this ZOOM link: Grace Cottage Family Health and Hospital is inviting you to a scheduled Zoom meeting. If you'd like share a remembrance of Warren and Leon,  or just listen in to the live presentation, please plan to join in via Zoom:
Warle: A Celebration & Remembrance of Warren Kronemeyer & Leon Ingall
Time: Jun 28, 2022 02:00 PM Eastern Time
Join Zoom Meeting
https://gracecottage.zoom.us/j/85279922937?pwd=TFp4S3IyQUk3VCtydFZyNUlWS2pEZz09
Meeting ID: 852 7992 2937
Passcode: 602059
The presentation will be digitized for later viewing via Brattleboro Community TV and on YouTube. Thank you for joining us for this celebration.
---
Grace Cottage Pride Flag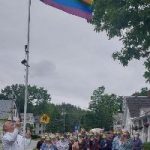 We've had a number of other events on campus in celebration of LGBTQ+ Pride month, including the raising of a Pride flag outside Grace Cottage Family Health on June 1.
---
2022 Readers' Choice Awards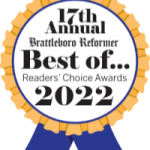 The Brattleboro Reformer is now accepting votes for the 2022 Readers' Choice Awards. Grace Cottage won in several categories in the past –we hope you will help us once again by voting here: https://www.reformer.com/readerschoice/. If you get the printed copy of the paper, you can vote again in the paper version. Thank you for your support!


---
Tee It Up for Health
It was a beautiful, warm and sunny day for our 13th Annual Tee It Up for Health golf tournament, held at Haystack Golf Club this past Saturday. The winning team was David Allbee, Bill Stevens, Brian Baker and Skip Brown. Thanks to our sponsors, listed below, and generous prize donors and golfers, we raised over $50,000, before expenses, towards renovations to Grace Cottage's Emergency Department.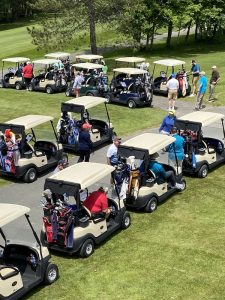 EVENT SPONSORS: The Richards Group; Haystack Golf Club
PLATINUM SPONSORS: Coverys; Elizabeth Walker
GOLD SPONSOR: People's United Bank/M&T Bank
SILVER SPONSORS: 802 Credit Union; Andy & Linda Barber; Linda Bastian; Brattleboro Memorial Hospital; Brook Field Service; Lawrence & Lober Electric; West River Family Dental
HOLE SPONSORS: Allard Lumber; Arc Mechanical; Baker Newman Noyes; Brattleboro Savings & Loan; Cerner Corporation; Chroma Technology; David & April Sprague and Family; DMI Paving; First Choice Communication; Howard Printing; Irving Oil; Northeast Delta Dental; Primmer Piper Eggleston & Cramer; Ski Country Legal, PLC; Southern Vermont Podiatry; WW Building Supply
BRONZE SPONSORS: Blue Cross Blue Shield VT; Canon Solutions America; Community Bank; Lawton Floor Design; Leader Beverage
FLAG SPONSORS: Deerfield Valley News; Doug & Cathy DiVello; Five Maples; Four Seasons Sotheby's International Realty; Phil & June Dibble; W&B Management in memory of Effie Chamberlin and in memory of Wally & Eleanor Lowe.
We're looking forward to our upcoming summer events: Tour de Grace from Stratton to Grace Cottage on Saturday, June 25, and a full-fledged Hospital Fair Day on Saturday, August 6. I hope to see you there!
– Doug DiVello, President & CEO
Grace Cottage Family Health & Hospital