It's hard to believe that it's been more than two years since I sent out my first Message to the Community about COVID-19 on March 17, 2020. I've been overwhelmed and humbled by the wonderful feedback I've received about the timeliness, consistency, and content of this electronic publication. I wish I could tell you that there is new news about COVID, but the virus continues to find new paths to remaining in our communities. While that could be discouraging at times, remember that epidemiological history tells us humans adapt, and in time, a coexistence occurs where we are able to go back to a more normal way of life (think flu virus every year). COVID is not devastating us the way it did two years ago prior to vaccines and therapies, and this is the definition of amazing progress (which we should all be thankful for).
As we continue to fight COVID in our community, with vaccines, boosters, and testing, and treating patients with the virus in our ER, clinic, and hospital, a lot of other things have been going on here, and I'm pleased to be able to share them with you: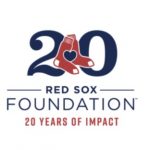 We were notified last week that Grace Cottage is one of five Vermont finalists (out of many nominated) in the Boston Red Sox Impact Awards. We were named as a finalist because of our hard work to raise awareness and improve mental health outcomes in our community. Now, whether we are awarded $10,000 (first place), $3,000 (second place) or $2,000 (third place) or nothing at all (fourth and fifth places) is up to you. The winners are chosen by the Boston Red Sox Foundation based on number of votes received. You can vote once each day, every day between today and May 31, on multiple devices – once on your phone, once on your laptop, etc. Even if you're using the same e-mail address, multiple votes per day do count! We so appreciate your help; you can vote by clicking here.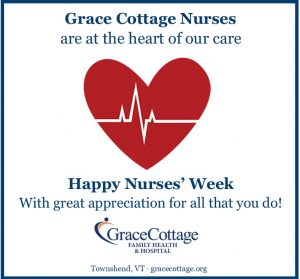 This week we're celebrating National Nurses' week with a variety of events in appreciation of staff. We couldn't provide the excellent level of care that we do without our 51 RNs, 11 LPNs and 8 LNAs. Their work is not easy, but they do it with grace and great skill.
This month, we have been delighted to welcome our Grace Greeter volunteers back; we've missed them terribly during the past two years and two months. Our Wellness Classes and Support Groups are gradually starting up again (with windows open).
And, despite the chilly, blustery weather, we had 64 participants in our Spring into Health 5K on Saturday;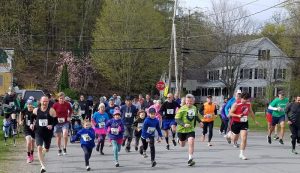 Al Claussen of Townshend (far left front in the photo) came in first (18:49), followed shortly after by his son, Spencer, who came in second (20:29).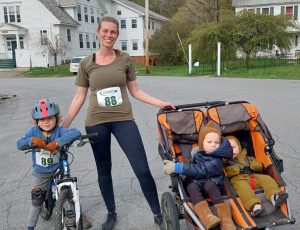 The first female to finish, Kelsey Taddei of Townshend, ran with her three young children (two in a stroller and one on a bicycle). Barbara Kelleher of Cape Cod is planning to complete one 5K in all 50 states, and she chose to participate in Spring into Health for her Vermont event because Grace Cottage seemed like such a wonderful cause! To see the complete results and more photos, visit our Facebook page.
We're looking forward to our other summer events: Tee It Up for Health at Haystack Golf Club in Wilmington, VT on Saturday, June 11; Tour de Grace from Stratton to Grace Cottage on Saturday, June 25, and a full-fledged Hospital Fair Day on Saturday, August 6.
Meanwhile, I'll end on this note, still COVID-related: as much as we'd like to return to normal as we work our way through the pandemic, we still need to maintain caution. Masks, social distancing, and good ventilation (opening windows to allow all the fresh air to flow in, now that spring is here!) are all precautions that we can and should continue to take to protect ourselves and others from the virus. The very best advice I can give you is to get outside, where your chances of contracting COVID are greatly reduced. Enjoy the wonderful weather and the beauty of Vermont (or wherever you are) in the spring!
Doug DiVello, President & CEO
Grace Cottage Family Health & Hospital