Dear Members of the Community,
Vermont has been receiving a great deal of attention in the news these days, and not just because of Patrick Lahey's announcement that he won't be running for the Senate in 2022. There have been shifts regarding COVID-19 case rates, exposure / quarantining / testing standards, and treatment, so this seems like a good time to review the current COVID-19 situation in Vermont, and to put things into perspective: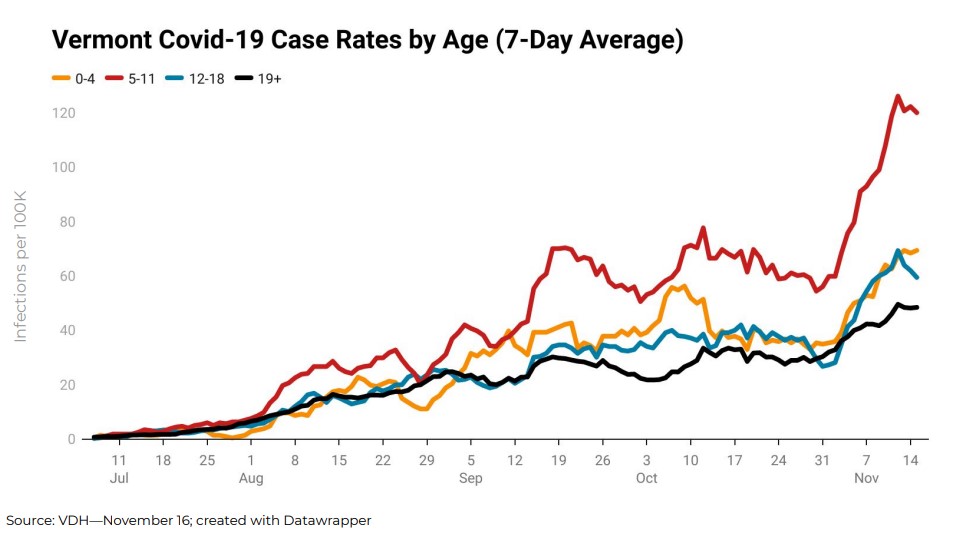 Vermont's average daily COVID-19 cases are up 82% over the last 14 days. We currently have the 6th highest daily case rate among all 50 states. However, we are 43rd among all states in the rate of hospitalizations. Why are cases of COVID-19 surging in Vermont, and what can be done to get us back on track?
Because we were eager to comply and many of us got our COVID-19 vaccinations as soon as we were eligible, we now have waning vaccine immunity. The solution? Get your booster shot as soon as possible.
We are seeing a decrease in the use of masks in public places. Mask Up!
The Delta variant of COVID-19 is highly contagious. Get vaccinated, get your booster shot, continue to social distance, and wear your mask.
Unvaccinated children have the highest case rates in Vermont. Get your children vaccinated.
Those most at risk (the immunocompromised) should consider treatment with intravenous monoclonal antibodies.
But, for the following reasons, don't panic:
Hospitalization rates due to COVID-19 in Vermont are currently quite low. In fact, among all 50 states, Vermont has the 7th lowest daily rate of hospitalization.
VT has the highest vaccination rate of any state in the U.S.
Vermont's COVID-19 death rate since the beginning of the pandemic is still the lowest of any state, at 62 deaths per 100,000 people (for comparison: 119/100,000 in New Hampshire; 281/100,000 in Florida; 342/100,000 in Mississippi.
To sum up:
Community transmission of the COVID-19 virus is high.
Masks should be worn in indoor public places while prevalence of the virus continues to be high.
No social interactions are without some level of risk. However, socializing in small groups of vaccinated people indoors without masks seems to be relatively safe and appropriate for healthy individuals.
The virus is, or soon will be, ubiquitous. Nearly everyone on this planet will get it at some point.

For those who are unvaccinated, many will suffer illness, many will lose days of work, some will be hospitalized, some will suffer long-term consequences, and about 1% will die.
For those who are vaccinated, most will not suffer illness; some will develop moderate symptoms for a couple of days; some of those who are older and have medical conditions will be hospitalized; only a very few will suffer long-term consequences.

Vaccination of the population, particularly now focusing on children, will significantly decrease the prevalence of the COVID-19 virus.
In other news, some of you may have read recent media coverage about a consultant's report presented to the Green Mountain Care Board (GMCB), attempting to assess the sustainability of hospitals in Vermont, and to start a conversation about how to reduce the cost of healthcare in the state. The report, produced by a California firm, was based on 2019 data (some of which appears to be erroneous) and contains many controversial recommendations. The consultant recommended that Grace Cottage and some other hospitals reduce the number of inpatient beds and other services. We believe that the consultants didn't have a clear understanding about the type and quality of care that Grace Cottage provides.
As hospitals throughout the state and the region now struggle with a shortage of beds due to increased demand and critical staffing shortages, it's very apparent that the consultant's research and conclusions are not based on today's reality. I can assure you that we will continue to do everything conceivable to remain an independent and financially sustainable organization, which is known and respected for providing services on a level not provided elsewhere.
If you have questions and would like to discuss this further, feel free to reach out. I would welcome your thoughts and feedback.
I wish you and your loved ones a happy and healthy Thanksgiving.
Doug DiVello, President & CEO
Grace Cottage Family Health & Hospital