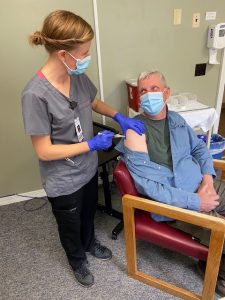 Finally, the good news we all need: after a difficult year, it appears that the U.S. pandemic may be turning a corner. Below are six reports with statistics that show that progress is being made:
Nationwide, new COVID-19 cases have fallen to the lowest levels since September, with about 38,000 new infections reported each day, as reported in The New York Times.
Two states that have seen recent COVID-19 surges, Michigan and New York, each reported at least a 40% drop in new cases over the last two weeks, according to the New York Times.
Nearly half of Americans age 16 and up — 48% — have received at least one COVID-19 vaccine dose, while 37% of the population is fully vaccinated, reports the Centers for Disease Control and Prevention (CDC).
The CDC's vaccine advisory panel voted on May 12 to recommend using Pfizer and BioNTech's COVID-19 vaccine in children as young as 12. CDC Director Rochelle Walensky, MD, released a statement saying she has adopted the panel's recommendation, making it an official CDC recommendation.
The national COVID-19 test positivity rate in the U.S. is 3% (and only 1% in Vermont) according to a seven-day average from Baltimore-based Johns Hopkins University. "It was 15% in January," White House COVID-19 adviser Andy Slavitt said on May 12. "This is an all-time low for the pandemic. This news is nothing but good."
The nation reported an average of 600 COVID-19 deaths each day, the lowest average in 10 months, according to The Associated Press on May 12.
"To Mask or Not to Mask, that is the question." On May 13, The Centers for Disease Control (CDC) issued guidance stating that fully vaccinated people do not need to wear masks, whether indoors or outdoors. In his bi-weekly press conference last week, Vermont Governor Phil Scott also issued an executive order that he reiterated in his press conference yesterday, stating that "fully-vaccinated people can resume activities without wearing a mask or physically distancing, except where required by federal, state, local, tribal, or territorial laws, rules, and regulations, including local business and workplace guidance." The Vermont mask mandate does remain in place in schools, on public transportation, healthcare settings (you will still be required to wear a mask when entering Grace Cottage), long-term care facilities, and prisons, and for children who are not yet eligible for a vaccine.
Despite being fully vaccinated, many people are still uncomfortable removing their masks in public spaces, whether indoors or outdoors. This is completely understandable – masks have become, for better or worse, a type of security blanket. Although we don't enjoy wearing masks, we've become so used to them at this point that it's difficult to get accustomed to removing them in public places. And there's the added level of complexity that when we're around other people who don't know whether or not we've been vaccinated, and we don't know if they have, we choose to be cautious.
Yet the CDC would like those of us who are fully vaccinated to embrace the freedom of going maskless unless we're in a healthcare setting (including Grace Cottage), or a long-term care facility, school, public transit, or prison. Seeing others without masks may encourage those who haven't yet been vaccinated to do so. Our route to success in getting the vaccine behind us is crystal clear – we need to get as many people vaccinated as possible, throughout the entire world, not just here in the U.S.
We are making slow-but-steady turns of the spigot in our fight against COVID-19, but we need to remind ourselves that the Pfizer, Moderna, and Johnson & Johnson vaccines are nothing short of miraculous. Their efficacy rate is astounding. They are truly a life preserver, in every sense of the word. Please encourage your family, friends, and neighbors to get vaccinated and, if they have doubts, share the article below by our Chief Medical Officer, Dr. George Terwilliger. At Grace Cottage, we have administered more than 5,600 doses of the vaccine (Pfizer, Moderna, and Johnson & Johnson).
Spring has sprung here in Vermont and, with it, hope for a pandemic-free future.
Doug DiVello, President & CEO
Grace Cottage Family Health & Hospital
P.S.  For more information on the importance of vaccination, please read Top Ten Reasons To Get Vaccinated Against COVID by Dr. George Terwilliger.