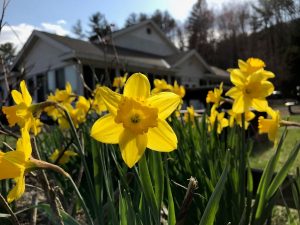 Dear Members of the Grace Cottage Community,
Governor Phil Scott announced yesterday that outpatient services, clinic visits, and diagnostic imaging are now permitted to resume in Vermont. This is welcome news and an additional sign that Vermonters have been successful at flattening the COVID-19 curve, greatly reducing the likelihood of a surge that would overwhelm our hospital and our statewide healthcare system.
Since the Governor's March 24th 'Stay Home Stay Safe Order', many of you cancelled medical appointments for wellness visits or the continuing treatment of chronic conditions. Some of you may have experienced a more urgent situation, but you didn't want to go to a medical facility out of fear or worry that you would be "bothering" a medical professional during the pandemic. Now that the Governor has approved the resumption of outpatient medical services, we are ready, willing, and safely able to schedule your visit, the sooner the better.
The Medical Director of our Rural Health Clinic, Dr. Timothy Shafer, shared with me his extreme confidence in inviting patients to the clinic to see him. As Dr. Shafer says, we have set up many procedures to keep patients safe throughout our facility, including our medical offices, outpatient rehab, X-ray, and lab. In fact, coming here for an outpatient visit or test is safer than going to a grocery store or a gas station. As an organization dedicated to the care of our community, we've made it our priority to thoroughly adapt to this situation. Our first priority has always been and continues to be the maintenance of a safe environment for our patients and for our employees.
You can call 802-365-4331 to schedule an appointment. If you still feel uncomfortable coming in, a provider can visit with you via phone or Zoom, if medically appropriate. Please don't wait – it's important that your medical needs be met after this six-week hiatus.
As we resume medical services, the most important message we can send out is extreme gratitude for those who have done most of the "heavy lifting" during this crisis – and in a small healthcare institution like ours, that means literally EVERYBODY! We want to thank those who have been on the front lines every day knowing that there could be great risk involved, and all the staff and employees who have been supporting them, backing them up, befriending, and comforting them. We are a family at Grace Cottage, and we all support one another.
We are finally beginning to see statewide statistics showing that the rate of COVID-19 infection is diminishing, and we are relieved that our efforts to prevent uncontrollable spread of the virus in our community have made a measurable difference. Grace Cottage has tested 220 patients thus far, and only 11 positive cases have been reported (a number much smaller than cases of traditional influenza virus seen in our region during the same time period). But we must all make sure that we stay vigilant in our fight against this invisible enemy.
It is comforting to see our friends and neighbors beginning to return to their medical providers, and utilizing the emergency room, when necessary, for their acute injuries and illnesses, and to see patients in our hospital beds again, placing their trust in us to care for them so that they can recover and return home to their loved ones. These are positive signs of recovery. You can trust us to ensure that everyone remains safe. We know you expect that of us and are counting on us, and we will not let you down.
We continue to work vigilantly at Grace Cottage and have asked our entire workforce to keep following protective guidelines and practices. We inventory our personal protective equipment (PPE) on a daily basis, to make sure we are adequately stocked with masks, gowns, gloves, face shields – everything we might need to address any change in the presence of the virus in our community – and we have so appreciated all of the support from people in our community who have done so much to ensure that we have the PPE that we need. We utilize all of the technology at our disposal to connect you with the healthcare you require, whether through face-to-face visits, Zoom appointments, Facetime visits, acute emergency department encounters, or via a simple telephone call with a Grace Cottage provider. We review our guidelines for COVID safety practices on a regular basis, and our Incident Command Team monitors every phase of our hospital's operation throughout this pandemic.
We are on this unprecedented journey as your partner and ally. Our entire family of employees shares the same passionate desire that you do – to see Vermont continue on the road to recovery. Let's take our time and do it right!
Thank you for the trust you place in Grace Cottage, and for supporting us every step of the way.
Doug DiVello, President & CEO
P.S. We diagnosed a case of Anaplasmosis in our Emergency Department a few weeks ago, which serves as a reminder that ticks are active again, and they are not at all good at physical distancing. Please, when you go out, wear light-colored protective clothing, avoid tick-infested areas, use appropriate bug repellant if you can, and check yourself and your pets for ticks as soon as you come back in.