I hope that you're continuing to stay safe and well. This week, I am turning my weekly message over to our Chief Medical Officer, Dr. George Terwilliger, so that he can address your concerns from a medical perspective.
Before I do, though, I'd like to bring your attention to an article that appeared in VTDigger last week about the financial challenges that Grace Cottage and other hospitals are facing. Kevin O'Connor did an excellent job of summarizing the issues, and I want to take this opportunity to thank our community for your overwhelming support that you have given in so very many ways.
Grace Cottage wouldn't have survived for 71 years without your generosity, and the outpouring of recent gifts and kindness has been astounding and humbling. All of these gifts, whether homemade masks, face shields, and gowns, banners and signs, charitable contributions, and so many other forms of support enable our employees to continue to work diligently to flatten the curve in Vermont (www.healthvermont.gov). We will continue to be as vigilant and cautious as ever, for the continued safety and health of our patients, our employees, and the community that we serve.
On behalf of all of us at Grace Cottage, thank you for your many expressions of generosity.
Doug Divello
President & CEO
From Dr. George Terwilliger, Chief Medical Officer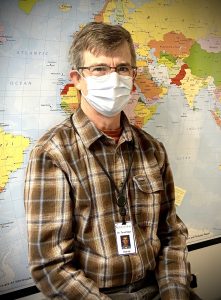 COVID-19 has changed our world in ways we are only just beginning to understand. Vermonters, experts at self-reliance, have excelled at isolating themselves during this pandemic, which has been the key to controlling the pandemic in our state. This has avoided overwhelming the medical system in Vermont. Thanks to everyone who is playing a part in this vital action. However, we can't do this indefinitely. We need to eventually find a way to get back to work, obtain basic services, and reconnect with friends and family in order to preserve the fabric of our society while keeping people safe.
Governor Phil Scott took a tentative first step on Monday, April 20th by allowing construction firms and some other businesses to reopen with two-person crews as long as they remain six feet apart, wash hands regularly, and wear face masks. This positive step inspires hope, but also raises questions about what is needed before there is a broader relaxation. We need an increase in the availability of tests, the ability to perform contact tracing of all people who have COVID-19 to prevent further infection, and to solve the shortage of personal protective equipment (PPE).
As we wait for these challenges to be met, we want our community to know that it is safe to get medical care at Grace Cottage Hospital. We continue to care for patients with routine and complex health conditions with strict infection prevention practices and protocols, aimed at protecting our patients and staff:
All patients who visit our clinics are immediately given a mask to wear as a way to contain any respiratory issues they may have and to prevent spread of infection to others. They are also screened for symptoms of COVID-19. Visitors are generally not allowed to accompany patients.
All employees are screened upon arrival for COVID-19 symptoms, including a temperature check, and are then given a mask. They wear eye protection, gowns, and gloves when interacting with patients, if the situation warrants this.
Questions and Answers
Below are some of the questions that I have recently been asked:
Q: What is the status of COVID-19 at Grace Cottage?
As of this writing, 144 patients have been tested at Grace Cottage Hospital. Of those, 9 have tested positive for COVID-19. Only one of them required hospitalization and was promptly transferred to an intensive care unit nearby. There have been no known cases of COVID-19 contracted at Grace Cottage Hospital by staff or by patients.
Q: What is Grace Cottage doing to ensure a healthy and safe environment for patients, staff, and our community during the COVID-19 pandemic?
We have prepared and executed emergency response activities in close coordination with local and state public health leaders. This is a rapidly-evolving situation, and we're ready for many different scenarios.
We're closely monitoring our inventory of essential supplies and implementing creative solutions to get the supplies we need. We are grateful to our community's aid in this effort!
To reduce the possible spread of COVID-19, we established telemedicine visits and a drive-through COVID-19 testing site, postponed nonessential office visits, limited visitors at our hospital, and are screening employees and approved visitors for risk factors of COVID-19 before they enter our facility.
Q: When should I come to Grace Cottage Family Health & Hospital?
Please don't neglect your health. If you have new worrisome symptoms such as chest pain, shortness of breath, weakness of a limb, difficulty speaking, or a severe headache, you may need to come to the emergency department which, as always, will safely and expertly evaluate and treat you. We also will safely care for you if you have other problems that can't wait for a visit with your doctor: injuries, abdominal pain, and more. For management of chronic illnesses, you should call your primary care clinician to decide if you are best cared for via telemedicine or with an in-person visit. We are here to care for you.
Q: Should I bring my child in for immunizations and well visits?
The Vermont Department of Health has recommended that all children, especially those 18 months of age and younger, continue to be vaccinated according to the routine immunization schedule. Delays in immunizations can increase risk outbreaks of other diseases. In order to follow these recommendations safely, we have instituted the following changes in our clinic process:
If your child needs immunization, visits are scheduled during the morning when the clinic first opens.
All patients enter the clinic alone or with one caregiver/parent if necessary.
All well patients enter through one main entrance. Sick patients enter through a separate side entrance and are isolated from the rest of the clinic.
Q: What else do I need to know if I have an upcoming appointment at Grace Cottage?
Please be assured that it is safe for you to keep your in-person appointment. You will be given a home-made, laundered, fabric mask on arrival for you to wear during your visit, which you can take home with you. If you are fearful of coming to the clinic, you can contact your provider's office to determine if your visit can be converted to a telemedicine visit.
Q: How do I get my prescriptions?
Messenger Valley Pharmacy in Townshend will provide curbside service at the store, delivery service to surrounding towns, and mail service through the post office for your prescription and over-the-counter (OTC) medication needs. The store is currently closed to foot traffic, but our helpful staff can help you find what you need, including other items they have in stock. Please call ahead at 802-365-4117.
Q: Should I wear a mask when I'm out and about?
The CDC recommends wearing cloth face coverings in public settings, such as the grocery store, to slow the spread of COVID-19. Surgical masks or N95 respirators are critical supplies that should be reserved for healthcare workers and other medical first responders. Visit cdc.gov/coronavirus for more information about cloth face coverings.
Q: Can I be tested for COVID-19?
If you have symptoms of COVID-19, Grace Cottage Hospital, like most other hospitals, can test you via a drive-up service. This is available by appointment by calling your primary care clinician. If you are sick enough for an exam, then you would be scheduled for an appointment in our respiratory clinic or directed to the closest emergency department.
Q: Is Grace Cottage offering the antibody test?
At this time, Grace Cottage does not offer COVID-19 antibody testing. Instead, we rely on the only test shown to accurately diagnose acute COVID-19: the molecular PCR test. Most antibody tests are of dubious quality and usefulness. Even the best are incapable of detecting early disease and are often inaccurate when trying to assess evidence of COVID-19 prior infection or immunity and the false positive rate is higher than the prevalence of disease exposure in our community. That means most people with a positive test would actually have an erroneous result. The experts tell us to wait for better tests.
Q: Why don't we have COVID-19 parties like we used to have for chicken pox? Aren't we all going to get it anyway? Let's get it over with and get the economy going!
If we all contracted COVID-19 in a short period of time, we could potentially be sick enough to overwhelm our medical system. While awaiting the development of effective treatments and a vaccine, if we can shelter the most vulnerable people from infection, we will likely have saved tens of thousands of lives.
Q: Why does a coronavirus vaccine take over a year to produce?
The international community is working together like never before to produce a coronavirus vaccine. The clinical trials required to produce new vaccines that are both safe and effective typically take ten years, but governments and industries around the world are making efforts to expedite the process while maintaining safety and efficacy standards. There is good reason to believe there may be a vaccine developed during the next year.
It is encouraging to see that social distancing is working to slow the spread in Vermont. Please stay as healthy as possible and remember that Grace Cottage is here when you need us!