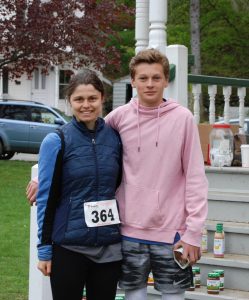 On Saturday morning, a cheerful group of friends and neighbors converged on the Townshend Common for the ninth annual Grace Cottage "Spring into Health" 5k walk and run, which is a benefit for the local community hospital sponsored by People's United Bank. While there were hundreds of "Girls on the Run" across the state concurrently, 98 people ran or walked the Townshend course, and plenty more participated as volunteers and cheering fans. An additional 17 people took part in the event "virtually" from remote locations.
First place male and female finishers Jorgen Sweeney of West Dover and Elkanah Linder of Townshend were rewarded with tins of syrup from Smith Family Maple, and "Most Experienced" participants Norm and Martha LaMoria of Newfane went home with salsa from Drew's Organics.
Read the race results in the Brattleboro Reformer online.